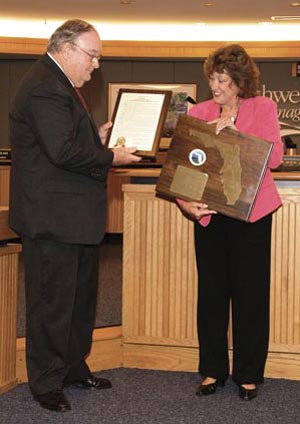 Judy Whitehead, Governing Board chair, presents the outgoing chair, Jerry Rice, with a plaque honoring his service to the District.
The District's Governing Board recently recognized the outgoing chair, Talmadge G. "Jerry" Rice, for his dedication to public service as a member of the Governing Board and the Withlacoochee River Basin Board.
"Throughout the years I worked with Jerry on the Board, I had the pleasure of spending a lot of time with him," said Judy Whitehead, Governing Board chair. "He was a helpful and encouraging mentor to me."
Rice was appointed by Governor Jeb Bush in March 2003. He served as the Governing Board chair from June 2006 until May 2007. Before serving as chair, Rice also served as the Board's vice chair and treasurer. As a Governing Board member, Rice also served as chair ex officio of the Withlacoochee River Basin Board.
Rice is very humble about his service, saying, "I felt like I was on a 4-year learning curve during my time with the District."
The Board resolution recognized Rice for demonstrating exceptional skill in coalition-building, environmental leadership, foresight, wisdom and administrative abilities instrumental in ensuring responsible stewardship of water resources and related natural systems.
"Jerry's strength, wisdom, guidance and expertise helped the Board accomplish many of its objectives," said Heidi McCree, Governing Board member. "I'll also miss his sense of humor."
The resolution also recognized Rice as a leading advocate for the development of alternative water supplies to meet growing public supply demands while preserving groundwater resources critical to the continued viability of agriculture in the region.
"Jerry understands the issues from many viewpoints — agricultural, rural, urban and real estate — and was always there to lend a suggestion," said David Moore, District executive director.
Rice is a native Floridian and resident of Dade City. Before beginning his real estate business, he was president and chief operating officer of Lykes Pasco, Inc., and subsequently vice president of government and industry relations for Lykes Bros., Inc. He retired from that position in 1998. Rice is currently a member of the Greater Lake County Association of Realtors and Sumter County Chamber of Commerce.
"I enjoyed serving on the Board and feel the work the District does is important to the region and the state of Florida," said Rice. "We tackled many important issues, but there are still many more ahead for the current and future Governing Boards to address."