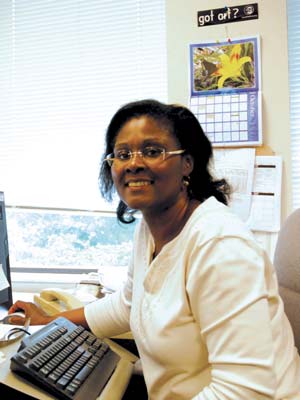 For Trisha Neasman, growing up was anything but ordinary.
Raised in a military family, Neasman has lived in a variety of places, including New Jersey, Mississippi, Texas and Japan.
"Moving around helped me to become more independent and allowed me to experience living in cities of all sizes," said Neasman.
With each move, she embraced all that each city had to offer.
Her favorite place to live was in Lorman, Mississippi, where her father was a professor of military science at Alcorn State University. Her family was fortunate to have lived on campus in faculty housing and to be neighbors with the head basketball coach.
Neasman fondly remembers her family being invited to the university's sporting events, which included guest appearances from famous athletes such as Muhammad Ali and the late Wilma Rudolph.
During the summer, she fished with her family on creek banks and went on Girl Scout camping trips in the Mississippi woods.
Neasman's family settled in Florida when she was 15 years old. After high school, she attended Florida State University and earned a bachelor of science degree in political science. She went on to earn a master's degree in urban and regional planning.
Neasman's first job out of college was an associate planner with the Withlacoochee Regional Planning Council. It was there that she was inspired by a coworker to pursue her interest in environmental planning. A year later, she accepted a position with Osceola County as an environmental planner for the region.
"Early on, I realized the importance of the natural landscape to healthy communities and decided to make a contribution in that area," said Neasman. "I see my job as promoting an understanding of the importance and complexity of water resource issues to help bring about a more sustainable way of life."
Today, Neasman is working in her 14th year at the District as a senior planner for the southern district planning section. As a senior planner, she works closely with the Alafia River Basin Board to develop their funding priorities and perform quality control reviews of their projects. Neasman also provides technical assistance to local governments in developing their comprehensive plans and related documents, in addition to reviewing comprehensive plan amendments and applications for developments of regional impact.
In the upcoming months, Neasman looks forward to working with local governments on their state-mandated water supply facilities work plans, which many cities and counties are required to adopt by May 2008. These plans must address how projected water use demands will be met for the next 10 years. She sees the plans as an opportunity for local governments to consider additional water conservation measures to reduce future water use.
When Neasman isn't planning for water resource sustainability, she spends time exercising, hiking and visiting art exhibits.
Her appreciation for art began several years ago on a trip to Washington, D.C. While there, she visited the Smithsonian National Museum of Natural History and was fascinated with a North American Indian exhibit. She recalls being moved by the artistry used in shaping natural materials into everyday objects.
This experience led to a love of folk art, an art form that is primitive in appearance and often uses natural objects in the production. Her collections of folk art range from wood carvings from the Caribbean to landscape scenes of old Florida.
Neasman has also traveled to New York and Italy to visit some of the world's most prominent museums such as The Metropolitan Museum of Art and the Vatican.
Neasman's travels have exposed her to unique cultures around the world and she attributes her adventurous spirit to her life experiences early on.
After living in the city for 14 years, Neasman recently moved to the "country." Although the nearest grocery store is 11 miles away and there is more land than roads around her, she's adjusting well to her new surroundings — just as she always has.