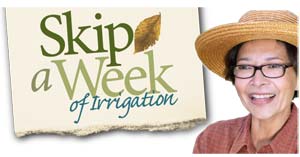 The District's new public awareness campaign is encouraging residents who irrigate their lawns to skip a week during the cooler months.
According to research by the University of Florida, as temperatures grow cooler, grass doesn't need to be watered as often. The "Skip a Week" campaign is using radio and print advertisements to encourage reduced outdoor irrigation.
The ads highlight the following tips people can use to determine when their grass needs water. Your lawn needs water when:
Grass blades are folded in half
Grass blades are blue-gray
A footprint remains on the lawn
"The cooler months are a good time to try to gradually reduce your irrigation to train your lawn to need less water," said Sylvia Durell, senior communications coordinator. "Overwatering makes your lawn less drought-tolerant and can encourage pests. Using less water will encourage deeper grass and plant roots, which makes them more drought-tolerant."
Due to below-normal rainfall and groundwater conditions, all 16 counties within the District are under one-day-per-week lawn watering restrictions through Nov. 30.
Climatologists are predicting a La Niña event, which calls for a drier than normal fall, winter and spring.
The District, as well as public water suppliers such as Tampa Bay Water and the Peace River/Manasota Regional Water Supply Authority, are concerned about meeting demands during the upcoming dry season, which could set new historic record lows. Skipping a week of irrigation would help conserve potable water, which could be used for public supply.
The "Skip a Week" campaign builds upon the success of the District's Florida-friendly landscaping public awareness campaign, which is featured during the late winter and spring when residents are thinking about gardening and improving their yards.
"Belief in and support of the University of Florida's Florida Yards & Neighborhoods program led to the District's Florida-friendly landscaping public awareness campaign," said Durell. "Following the University of Florida's nine landscaping principles can produce a beautiful, low-maintenance Florida-friendly landscape," said Durell. "And watering efficiently is one of the important Florida-friendly landscaping principles."
For more information about water restrictions, please visit the District's web site at WaterMatters.org or call the District's water restriction hotline at 1-800-848-0499 or 1-800-423-1476, ext. 4498, during normal business hours.
To learn more about Florida-friendly landscaping and other ways to conserve water, visit the District's web site at WaterMatters.org/yards and WaterMatters.org/conservation.