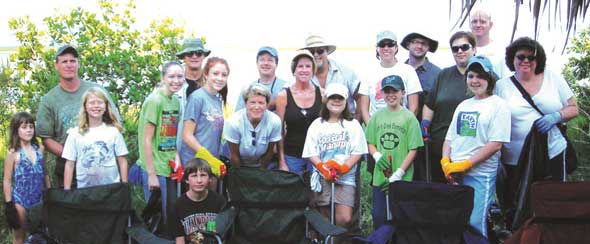 Volunteers of all ages pitched in to clean up a stretch of Hillsborough County shoreline.
Adult and youth volunteers provided the manpower during a beach cleanup organized by the District's Land Resources Department at the District's Piney Point Tract in southern Hillsborough County. The cleanup coincided with National Public Lands Day, which gives Americans an opportunity to improve and enhance the public lands they enjoy.
Many of the volunteers were District employees who also brought their families out to participate.
"We had almost as many children volunteering as adults," said Cynthia Hausman, District land use specialist. "Working together teaches them that when people unite to do something worthwhile, everyone benefits."
Some of the other volunteers were high school students working to satisfy their volunteer commitment for the National Honor Society.
"I like to volunteer at cleanups and at horse shows," said East Bay High School student Kelsey Cearley. "Where there is a need, my mom sends me out."
Diane Conforte accompanied her daughter and another student. She said she believes in parenting by example.
"Kids do what they see," said Conforte. "I don't believe in saying 'Do what I say, not what I do.' "
Volunteers picked up garbage along a quarter-mile stretch of shoreline. The trash collected from that area half-filled a 20-yard dumpster. The biggest find of the day was a truck bed liner that was hauled out of the mud.
"Because we were able to do the cleanup at low tide, we could really get into some areas that are hard to reach during high tide," said Will VanGelder, District senior land management specialist. "A lot of people volunteer to get their community service credit — we're glad they picked us."
The District's Piney Point Tract was acquired from TECO with funds from the Florida Forever Program. This property, which consists of 2,376 acres of uplands and coastal habitats, was purchased for preservation and restoration under the Tampa Bay Estuarine Project. Part of the area serves as a breeding ground for wading birds.
To learn more about the volunteer opportunities available on District lands, please call the following land use specialists: Kim DeVary (Citrus, Hernando, Marion, western Pasco and Sumter counties), (352) 279-3891; Margaret Blommel (portions of Hillsborough, eastern Pasco and Polk counties), (352) 279-3889; and Cynthia Hausman (Charlotte, DeSoto, Hardee, portions of Hillsborough, Manatee, Pinellas and Sarasota counties), (352) 279-3887.