District Extends Water Restrictions
The Governing Board extended Phase I water shortage restrictions for the District's entire 16-county area through Feb. 29, 2012, because of a disappointing summer rainy season and an approaching winter that is expected to be drier than normal.
This means lawn and landscape watering remains limited to a two-day-per-week schedule, and residents may only water before 10 a.m. or after 4 p.m.
Some local governments have stricter local ordinances limiting lawn watering to one day per week or using different watering hours, so residents should always check with their local government or utility before adjusting their irrigation timers.
Under a Phase I water shortage, local governments and utilities are required to report enforcement activity to the District on a monthly basis.
For additional information about water restrictions and water conservation, please contact your local utility or visit the District's website at WaterMatters.org/conservation/. To report a possible violation, call 1-800-848-0499 or email Water.Restrictions@WaterMatters.org.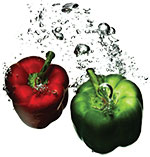 Six Easy Ways to Save During the Holidays
During the holidays, water plays a role in everything from food preparation to the cleanup process. Here's how to incorporate water conservation into your holiday preparations:
Defrost frozen foods in the refrigerator or the microwave, not under running water.
Rinse vegetables and fruits in a sink or pan filled with water instead of under running water. This water can then be reused to water houseplants.
When washing dishes by hand, fill one sink or basin with soapy water and fill the rinsing sink one-third to one-half full. Avoid letting the water run continuously in the rinsing sink.
Select the proper size pans for cooking. Large pans require more cooking water than may be necessary.
Dispose of food scraps in the garbage can or composting bin rather than the sink's garbage disposal, which uses up to 4 gallons of water per minute.
Run your dishwasher only when you have a full load. Dishwashers use between 4.5 and 12 gallons per load.
For more water conservation tips, please visit the District's website at WaterMatters.org/conservation/.
Palm River Restoration Gets Under Way
Work is underway to restore habitat and repair erosion along the banks of the Palm River in Tampa.
The Palm River is part of the Tampa Bypass Canal and flows from the District's S-160 Flood Control Structure, located just north of the Selmon Expressway, to the mouth of McKay Bay.
The project's first phase will remove invasive plants, create intertidal marsh platforms and restore upland areas on parcels that are owned by the District and located on the east side of McKay Bay along the mouth of the river. Phase II will focus more on water quality benefits and will begin in 2012.
Phase I construction should be complete in the spring. The District's Hillsborough River Basin Board is funding $1.1 million of the project's $2.1 million cost, with funds from the state Surface Water Improvement and Management Program and Department of Transportation covering the balance.