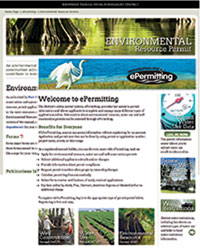 Two areas of the District's website were recently redesigned and enhanced with new user-friendly features.
ePermitting
The District's new ePermitting website, WaterMatters.org/permits, combines the previous ePermitting and Permits and Rules webpages.
"The same helpful information and features on these two webpages is now consolidated and reorganized for quick and easy access," said Sommer Hess, District senior program manager. "This will allow us to improve the quality and availability of information to new and existing permit holders and the general public."
Through ePermitting, application and permit searches can be completed without registering for an account by using the permit or application number, project name, county or date range.
However, it's free to register and account holders can do much more with ePermitting, such as apply for a permit, submit application or permit compliance information, request permit transfers, calculate permit fees automatically and subscribe to receive notifications of newly received applications. In addition, fees can be paid online by check, Visa, Discover, American Express or MasterCard at no additional charge.
The District en Español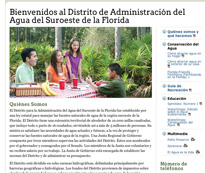 Spanish-speaking residents also have a fresh new source of information with the rollout of the District's new Spanish webpage, WaterMatters.org/español. The redesign includes a new look, updated information and new materials.
The website now has a multimedia section featuring translated videos about two District properties, Potts Preserve in Citrus County and the Serenova Tract in Pasco County, as well as a conservation video titled "El Agua es la Vida," or "Water Is Life."
Free publications about the District, water conservation and recreation, as well as free classroom materials, can be downloaded directly from the site. In addition, a link to translated information about Florida-friendly fertilizing, including two radio public service advertisements, is available.
Both sites have been designed to accommodate tablet computers and mobile devices.