Are you looking for a quiet place for a bike ride, a hike or just a peaceful picnic? The Hálpata Tastanaki Preserve is a great choice.
The District's sole Marion County property with regular public access, the preserve is named after Seminole leader Hálpata Tastanaki (Chief Alligator) who, along with Osceola, Jumper and approximately 1,000 warriors, took part in the largest battle of the Second Seminole Indian War in 1836.
The preserve is located on the Withlacoochee River in southwest Marion County near Dunnellon and Citrus Springs. A variety of plant communities occur on the property, including floodplain swamp and oak scrub along the river and longleaf pine and turkey oak sandhills in upland areas. Recovering stands of oak scrub scattered amid the sandhill support the threatened Florida scrub-jay.
The property was purchased by the District to provide for the long-term protection and enhancement of floodplain forests along the Withlacoochee River, isolated wetland systems and extensive upland areas with high rates of aquifer recharge. A restoration project completed in 2010 improved water flow and water quality for 150 acres of wetlands and restored wildlife habitat in the preserve.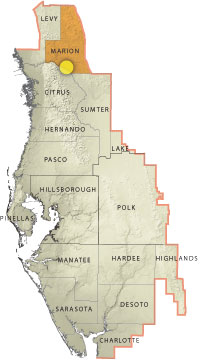 A section of the Florida National Scenic Trail passes north of the preserve along CR 484 as it follows the Marjorie Harris Carr Cross Florida Greenway. The Florida Trail's Pruitt Trailhead is located at the preserve's CR 484 entrance.
A trail system provides a series of three loop trails that allow hikers to tailor their hikes. In all, 17 miles of multiuse trails are marked for hiking, bicycling and equestrian use. The trail along Ft. Izard Road meets the River Trail at the Withlacoochee River, with access to its banks for fishing. The hike to the river from either entrance is five to six miles, so plan accordingly.
Visitors can access the preserve daily from sunrise to sunset through the Pruitt Trailhead on CR 484, about 5½ miles west of SR 200. Portable toilets are available as well as a nonpotable water supply. Property access is also available on SR 200, about 2½ miles southwest of CR 484. No restroom facilities or water supplies are available at the SR 200 entrance and there is no equestrian access.