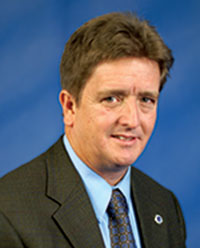 Randall S. Maggard
Gov. Rick Scott has appointed Randall S. (Randy) Maggard to the District's Governing Board.
Maggard is from Pasco County and is vice president of Sonny's Discount Appliances, Inc. He was appointed to succeed Ronald E. Oakley, and his term ends March 1, 2015. Prior to his appointment to the Governing Board, Maggard was a member of the District's Coastal Rivers Basin Board from 2004 to 2010, including serving as vice chairman.
A native of Dade City, Maggard graduated from Zephyrhills High School. He went on to earn his associate's degree at Pasco-Hernando Community College in Dade City.
Maggard is chairman of the Pasco County Republican Party and a member of the Zephyrhills Economic Development Board.