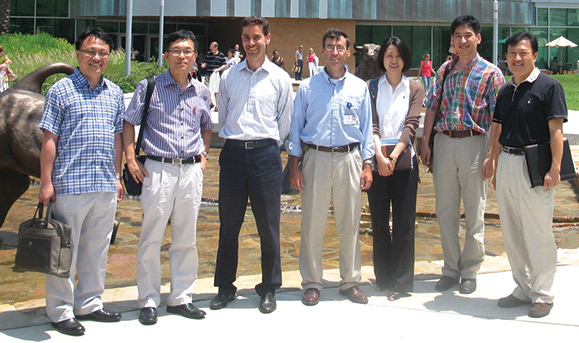 Won-Seok Kim, University of South Florida graduate student, second from left; Jeff Cunningham, USF assistant professor, third from left; and Anthony Andrade, District senior water conservation analyst, fourth from left, meet with the South Korean delegation at the USF Marshall Student Center.
A delegation from the Environmental Research Institute of South Korea, the country's equivalent of the U.S. Environmental Protection Agency, toured Pinellas County, Dunedin and Largo water reuse projects recently as part of a fact-finding trip that included Tampa Bay and northern and southern California.
"We explained 'Water Reuse 101' to the delegates," said Anthony Andrade, District project manager and senior water conservation analyst. "We showed them what utilities have developed with District assistance, why we needed to develop the reuse projects, and how reuse fits into the overall water supply plan in the District and throughout Florida."
Dr. Daniel Yeh, an assistant professor in the Department of Civil and Environmental Engineering at the University of South Florida, who organized the visit, said the delegation was consulting for the South Korean government.
"The Republic of Korea is developing a national policy on water reuse," said Yeh, "and the group was very impressed with what they saw here."
The Pinellas, Dunedin and Largo system tours gave the group the opportunity to see three communities with different types and levels of water reuse.
"They asked a lot of questions about demand, pricing and other issues," said Yeh. "The sites they toured gave them a good view of new systems and mature systems."
"We made the case that the District's approach may be a model for Korea to follow," said Andrade. "What they learned here should help them advise their government as they develop water policy."