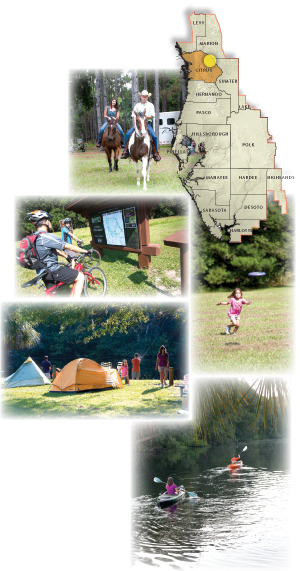 Nestled just north of the Inverness city limits in Citrus County is 8,500 acres of pristine Florida wilderness with more than 30 miles of trails and four camping areas where you can hike, camp, bike, boat, fish — even bring your horses.
Freshly restored to its historic natural flow patterns, Potts Preserve is bordered by the Hernando pool of the Tsala Apopka Lake system to the west and the Withlacoochee River to the east. Purchased by the District to protect the area's water and wetlands, the property contains a variety of native ecosystems and wildlife, including the threatened Florida scrub-jay.
"This property is very important because of its diversity of habitat and water resources," said Carmen Sanders, District senior land use specialist. "But it also offers many outdoor activities for the whole family."
The Florida National Scenic Trail runs through the property, and the preserve is a site on the Great Florida Birding Trail. Hiking trails are abundant throughout the preserve. They range from short, easy walks to longer, more adventurous treks for those who really want to explore. Two popular trails start from the edge of River Camp.
River Camp is a primitive campground that can be reached by car, from the river or by a short hike from the Hooty Point entrance. The Equestrian and Oak Hammock group camps have drive-in access from Dee River Road. One backcountry campsite is located in the northeastern end of the property. There is no potable water at any site.
Potts Preserve is easily accessible for day use as well as overnight camping. All camping is free, but requires reservations, available online at WaterMatters.org/recreation, by fax or mail. Admission and parking are free, too, making it a low-cost nature adventure with something for everyone. As with camping, vehicle access inside the gates of the preserve requires a free reservation.
Each issue of WaterMatters features a different District property ready for you to explore. These public lands are close to home and are free or very inexpensive to use.