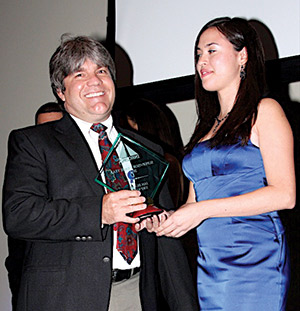 Alejandra Marin, right, an INROADS intern, presents the Supervisor of the Year Award to Jan Burke, District surface water regulation manager.
District staff and interns were recently honored by the Tampa Bay INROADS organization at its annual awards banquet in Tampa.
Jan Burke, District surface water regulation manager, was chosen as Supervisor of the Year among 14 nominees. He was nominated by Eric Ho, a civil engineering major and graduating senior who served at the District's Bartow office as an INROADS intern for two years.
Lucio Martinez, who worked in the Sarasota surface water regulation section, was named INROADS Senior of the Year. He also received the INROADS Scholar Award for achieving a 3.7 or better cumulative GPA.
German Plazas, who worked with the applications systems section in the Tampa office, won the INROADS Academic Achievement Award by achieving a 3.0 or higher cumulative GPA.
The mission of INROADS is to develop and place talented minority youth in business and industry and prepare them for corporate and community leadership. Since 2002 the District has hosted 22 INROADS students in several departments, including Communications, Human Resources, Information Resources, Community & Legislative Affairs, Resource Projects, Resource Regulation, and Operations.
According to Burke, the Supervisor of the Year award was a surprise.
"It was a real shocker to me," said Burke. "I didn't even realize that I was nominated until the banquet."
Burke said Ho, his intern, took the initiative to put together a nomination package and submit it to INROADS.
"Eric is a driven individual," said Burke. "He likes to take initiative, which has made him an outstanding intern."
Burke used Ho to help keep databases current, and he sent him into the field on construction inspections. Ho was also involved in the District's contribution to the state's high-speed rail initiative, helping to coordinate with consultants that were looking at areas along the I-4 corridor.
"I tried to mentor him a bit," said Burke. "I encouraged him to progress in his field and work toward professional licensing once he graduated."
Brenda Kerrick, a District senior human resources generalist, coordinates the District's INROADS program.
"The District has a pretty symbiotic relationship with the program," said Kerrick. "We get talented, bright people working for us who can bring fresh ideas or new tips and tricks. The students get an opportunity to learn from people who are working in their field, and they get a paid position while they learn."
Kerrick said the District supports the INROADS professional development goals.
"We help the students learn how to perform the management and professional tasks they will have to carry on in their field of work," she said. "An internship at the District teaches them how to work with leadership and helps develop them as leaders as well."
"We try to give them real-life examples of how they can become leaders in their field," said Burke. "The interns learn from us, and they are a real help to us. It's a great program."