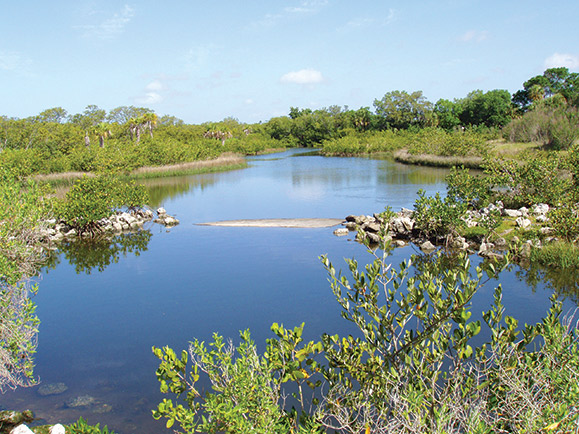 After decades of being impacted by trash and debris, Clam Bayou's water quality and wildlife habitats will soon be restored. The largest and final phase of the Clam Bayou Habitat Restoration and Stormwater Treatment Project is currently under way, thanks to a cooperative effort between the District's Surface Water Improvement and Management (SWIM) Program and the cities of St. Petersburg and Gulfport.
Clam Bayou is a 170-acre estuary that makes up part of Boca Ciega Bay, a segment of Tampa Bay. It is surrounded by the cities of Gulfport to the west and St. Petersburg to the north and east. Until the 1920s, Clam Bayou was relatively unaltered by human activities. Since then, urban development around the bayou has drastically altered the natural habitats and the hydrology of the system.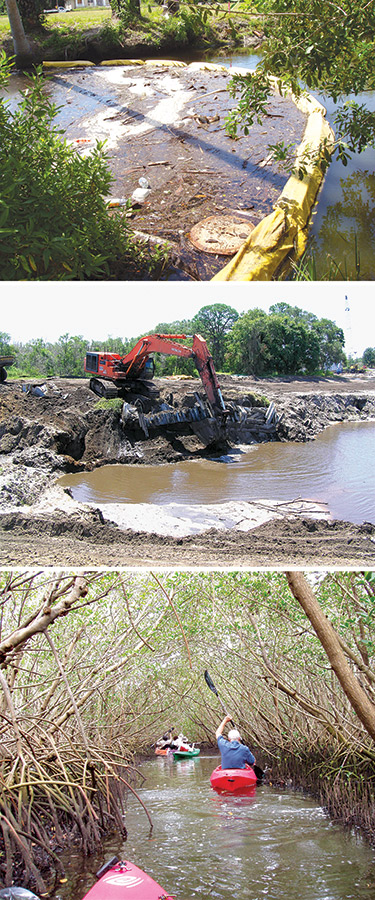 Top: Typical trash carried in runoff to be removed by stormwater treatment ponds. Middle: Construction contractor excavates stormwater treatment pond for Clam Bayou. Bottom: Kayakers exploring mangrove-lined channels of Clam Bayou.
"Most of the Clam Bayou watershed was developed prior to the state's implementation of stormwater regulations requiring treatment," said Janie Hagberg, District senior professional engineer. "We are constructing stormwater ponds to capture sediments and trash before they reach the bayou. Right now an incredible volume of trash is delivered to the bayou from stormwater runoff."
The first award-winning phase of this project was initiated by the Florida Department of Environmental Protection in 1995 in partnership with the city of Gulfport and the District's SWIM Program. In this phase a 10-acre area, now known as Clam Bayou Nature Park, was restored to create coastal uplands and an open-water lagoon that includes marshes, coves and a tidal channel. In addition, the eroding southern shoreline of the bayou was stabilized. The construction of this portion of the project was completed by the District's operations staff, and the majority of the marshes were planted by volunteers.
Upon completion of Phase 1, SWIM staff were approached by a lifelong resident of Clam Bayou about other opportunities for additional bayou restoration. As a result, staff evaluated historical aerial photographs dating back to the 1920s in an effort to understand changes, such as dredging and filling, that occurred over time. Through this research, staff discovered an opportunity to restore one of the few remaining green spaces in Pinellas County.
A second phase of the project was completed in 2000 to restore 10 additional acres of estuarine channels, lagoons and marshes. In addition, stormwater was treated before entering two sections of the bayou.
The third and final phase, encompassing 44 acres across seven sites, is currently under construction. In total, 24 acres will receive habitat restoration and 20 acres will contribute to stormwater treatment.
"Phase 3 will enhance and restore various estuarine, freshwater wetland and coastal upland habitats," said Brandt Henningsen, District chief environmental scientist. "In addition, treated stormwater will flow through project lagoons, which will allow the water to receive additional cleansing and be redistributed to the bayou, mimicking its natural pattern."
The areas being restored and enhanced will allow many different wildlife species, including reptiles, fish, birds, amphibians, and marine and terrestrial mammals, to utilize the area.
The stormwater ponds will consist of a combination of structures, including deep water sumps and skimmers to remove pollutants and collect floating trash.
"It's challenging to undertake such a large earthwork project, especially during the rainy season," said Hagberg. "We already see large amounts of trash making its way into the ponds with every storm event."
To date, one of the restoration sites is complete and one of the stormwater ponds is approximately 50 percent complete.
Upon total completion of Phase 3, which is expected in the spring, one final sweep will be planned to pick up trash and debris from the shore and mangrove forest of the bayou. After the cleanup, residents and visitors to Clam Bayou will be able to enjoy kayaking and exploring the coastal habitat without seeing the large volume of trash that once made its way into this beautiful estuary's waters.
Visit WaterMatters.org/clambayou for more information about the project.