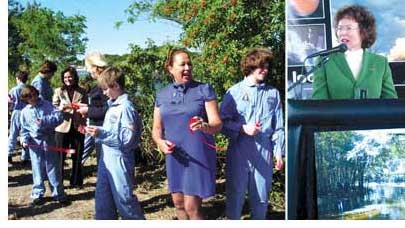 Left: Maritza Rovira-Forino, Governing Board member and co-chair ex officio of the Hillsborough River Basin Board, joined students in the ribbon-cutting ceremony. Right: Tampa Mayor Pam Iorio spoke at the ribbon-cutting ceremony for the restoration project.
In November, members of the District's Governing Board and the Hillsborough County School Board joined Tampa Mayor Pam Iorio and Stewart Middle Magnet School students and faculty in celebrating a shoreline restoration project that will take place behind the school.
The school is located along the Hillsborough River and the project will focus on addressing bank erosion problems, which contribute to water quality issues. Approximately 1,500 feet of shoreline will be restored by removing invasive plants, regrading the shore to correct erosion problems and planting native vegetation.
Students will learn about the project through science curriculum. They will also take part in the planting.
Construction on the project is expected to begin in April 2009 and be finished before the summer.
The project is expected to cost approximately $100,000 and is being funded equally between the District and Hillsborough County Public Schools. The District's funding is divided among the Hillsborough River Basin Board and the state Surface Water Improvement and Management (SWIM) Program. 
This project will ultimately benefit Tampa Bay, which is a SWIM priority water body. The Florida Legislature established the SWIM Act in 1987, requiring the five water management districts to maintain a priority list of water bodies of regional or statewide significance. The districts develop plans and programs for the improvement of those water bodies.