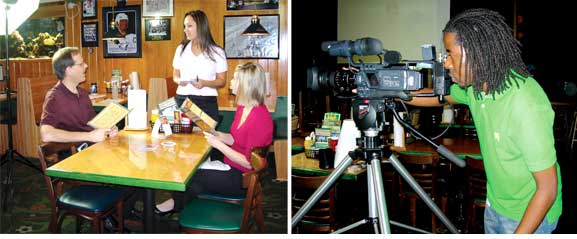 Left: Ruffin Gray, City of Lakeland environmental specialist; Nesya Bliss, youth outreach specialist; and Virginia Sternberger, senior communications coordinator, served as actors in one of the water conservation public service announcements. Right: Antwan Key, City of Lakeland communication specialist, served as the lighting and camera operator for the water conservation public service announcements.
Public service announcements (PSAs) promoting two Southwest Florida Water Management District water conservation programs will begin airing on the City of Lakeland's government access station.
The District and the City of Lakeland worked together to produce the PSAs for the Water Conservation Hotel and Motel Program (Water CHAMP) and the Water Program for Restaurant Outreach (Water PRO). Water CHAMP is primarily a towel and linen reuse program and Water PRO promotes serving water only upon request. Both programs emphasize water conservation through best management practices.
Ruffin Gray, a Lakeland environmental specialist, came up with the idea to pool resources on the project.
"The city's new cable station is always looking for programming," said Gray. "I provide the station with as much water conservation programming as possible. That's why I asked the District if they would be interested in creating commercials together to promote Water CHAMP and Water PRO."
When Gray learned that the District did not have any PSAs promoting the conservation programs, he suggested working with the city's production crew to create pieces that could be used by any government access station.
These PSAs were cooperatively produced by the District and the city at no cost. The District provided the scripts, the city recorded and edited the pieces, and the cast was provided by the District and the city.
"As an added bonus, restaurants and hotels participating in the programs were excited to be involved in the project and allowed us to film at their establishments for no charge," said Robin Grantham, Water CHAMP and Water PRO coordinator.
If you are interested in obtaining a copy of the two PSAs to air on government or public access stations, please contact Robin Grantham at (352) 796-7211, ext. 4782, or Robin.Grantham@WaterMatters.org.