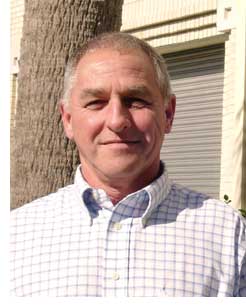 Jay Yingling, senior economist, Planning Department
A District employee with more than 23 years of experience in water resource economics has taken the helm of the Florida Section of the American Water Resources Association (AWRA).
Jay Yingling, a senior economist in the District's Planning Department, was elected president of the Florida Section last year.
"I became involved with the AWRA Florida Section because I was looking for an organization that would help me understand the breadth and complexity of Florida's water resources and how they are used and enjoyed," said Yingling. "As an economist for a water management district, it's crucial for me to know about all the industry and recreational uses, and the Section fit the bill perfectly."
Yingling has been a member of the organization for more than 10 years. He has been on the Board of Directors for more than five years and has served in several capacities, including treasurer and vice president.
As Section president, Yingling hopes to increase services to members, such as registration by credit card. He also hopes to increase fundraising efforts for educational programs, improve records management and, most importantly, keep the meetings highly informative and enjoyable.
Founded in 1964, AWRA is a nonprofit professional association dedicated to the advancement of multidisciplinary water resources education, management and research. Members include a wide variety of water resources experts.