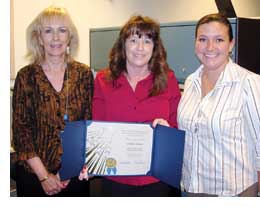 Charlotte Post, administrative supervisor, and Tammy Antoine, employee committee chair, presented Debbie Harper with the Shining Star award.
Debbie Harper, the most recent shining star recipient, has made contributing to her community a way of life.
While raising her two daughters, Harper was involved in numerous organizations such as the Parent Teacher Organization, Navy Junior Reserve Officers Training Corps and athletic booster clubs. She also worked as a children's librarian at her neighborhood library, which kept her in touch with children in the community as well as her own.
"It was always important to me to stress community participation to my children," said Harper.
Now that her children are raised, Harper devotes her time to a diverse group of volunteer clubs and organizations.
In addition to being a foster parent, Harper is also a volunteer of the Florida Guardian ad Litem Program. This community advocacy program provides a voice for Florida's abused, abandoned and neglected children.
"Some of my proudest moments while working with children have come from seeing them transcend their rocky foundations and grow into well-rounded, productive adults," said Harper. "It's rewarding to know I may have played a part in their progress."
Harper is also a member of the Dade City Garden Club. The garden club assists with plantings and provides training to a variety of groups, including assisted living facilities and city and county workers. The club also sponsors children to attend an environmental camp.
Harper says being a member of the Dade City Garden Club allows her to practice her love of gardening while maintaining her responsibility to the community and the environment.
In addition to her interest in gardening, Harper also has a passion for history. She is currently on the Board of Directors as treasurer of the Seminole Wars Foundation, an organization that preserves significant sites, establishes educational programs and publishes materials related to the Seminole wars. Harper assists with publishing several printed materials relating to the Seminole wars and was recently acknowledged for her efforts with author Frank Laumer's historical fiction book titled "Nobody's Hero."
Harper is a senior regulation processing specialist in the Brooksville Regulation Department and has worked at the District for eight years. She was nominated by Carolyn Pina, District engineer.
"Debbie is one of the District's most modest heroes," said Pina. "She is always willing to help the underprivileged in a very private and confidential manner."
To learn more about the organizations mentioned in the story, visit the following web sites:
Florida Guardian ad Litem
www.flgal.org/
Dade City Garden Club
www.dadecitygardenclub.com/
Seminole Wars Foundation, Inc.
www.seminolewars.us
Florida Foster Care Program
www.myflfamilies.com/foster-care/