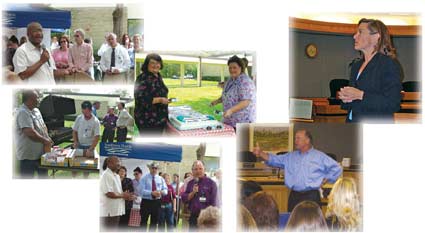 Two events in August allowed District staff the opportunity to interact with District Governing Board officers.
Governing Board Chair Heidi McCree attended the biannual employee meetings at each of the District service offices. On behalf of the Governing Board, McCree expressed appreciation for "the tireless work and creativity" demonstrated by District staff.
"As a Governing Board chair I have the opportunity to travel around the state and meet with others involved in water resources issues," said McCree. "No matter where I go, this District is highlighted as an example of how to do things right. It makes me proud to represent this District, and it makes me proud of all of you."
August was also a time for celebration. Outgoing Governing Board Chair Watson Haynes II wanted to recognize the staff's contribution to the District by holding a cookout. Senior staff typically honors the outgoing chair with a dinner, but Haynes wanted an event open to all District employees.
Staff enjoyed hot dogs, chips and soda and the opportunity to talk to the former chair in a relaxed setting. Haynes praised the hard work and dedication of the staff.
"I was elated at the response and attendance of the employees who gave up their time to spend with me," said Haynes. "It was a rewarding experience for both Valerie (Haynes' wife) and me. Once again, I believe we have the best employees of any major organization in the world."