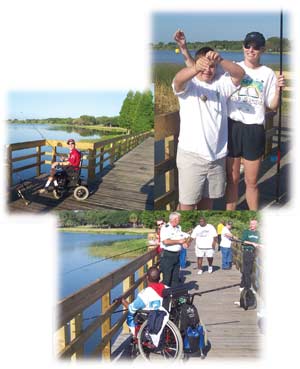 The District and the National Wild Turkey Federation (NWTF)/Wheelin' Sportsmen have agreed to continue a successful partnership that allows disabled outdoor enthusiasts the opportunity to participate in planned events throughout the year.
As part of a pilot program, three events were jointly organized by the District and the NWTF/Wheelin' Sportsmen last year, including a deer/hog hunt, a turkey hunt and a fishing derby. The success of these events led to the District's Governing Board signing a five-year agreement with NWTF/Wheelin' Sportsmen to hold seven events on District land each year, starting in FY2006. See below for a list of the dates and locations of upcoming events.
The Wheelin' Sportsmen group is dedicated to providing people with disabilities the opportunity to enjoy the great outdoors. The group organizes hunting and fishing events, recreational shooting and other outdoor activities. More than 20 events are held throughout Florida each year.
Those who participate in Wheelin' Sportsmen events are preselected through an application process. For more information about participating in future events, visit the National Wild Turkey Federation web site at www.nwtf.org.