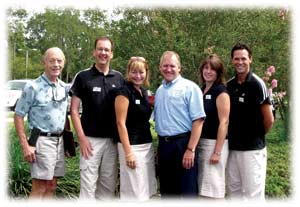 This summer a group of international visitors spent time learning about the District and sharing ideas with District staff.
Ed Hobin, outreach projects coordinator for the District and a Rotarian, hosted a group of New Zealanders. Henry Davies, a member of the Wellington North Rotary Club, led the group. Davies is a banker specializing in online services. Accompanying Davies on the tour were a clinical psychologist, a police officer and two hospitality and tourism representatives from New Zealand.
Hobin gave them an overview of water management in Florida and discussed the alternative water resources being used by the District. The group also viewed the video "Water's Journey."
The group spent five weeks in west-central Florida touring a variety of businesses, attractions, government agencies and historic sites.