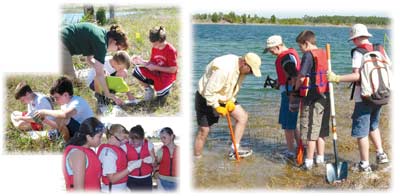 The Green Swamp Wilderness Preserve in Polk County was recently ablaze with activity. District and Division of Forestry staff decked out in firefighting gear were spread out along the fire lines of the prescribed burn while Black Hawk helicopters buzzed through the air and media photographers looked on.
The activity was part of a 296-acre controlled burn designed as a joint training mission among the District, the Division of Forestry and the Air National Guard.
While the controlled burn helped eliminate excess fuel in the preserve, the burn also provided the guard crew the opportunity to train for the first time with the new Fire Hawk helicopter and practice a traditional method of water drops using a Black Hawk with a bucket. The Fire Hawk is a Black Hawk equipped with a water tank and a snorkel. It is much more maneuverable in firefighting situations than the standard Black Hawk.
"Our unit received the Fire Hawk while we were in Iraq, so this is the first chance the whole unit is getting to train on it," said Ray Freeman, Chief Warrant Officer with the Air National Guard. Freeman is the unit's training officer.
Because there are only a handful of these specially equipped helicopters in the United States, the Brooksville unit may be called out to assist with wildfires throughout the southeast region.
The District and Division of Forestry conduct controlled burns year-round and interagency cooperation is not new. The two agencies often work together on controlled burns and fighting wildfires.
"It's nothing for us to call each other up to ask for some extra help," said Bob Duty, air tactical coordinator with the Division of Forestry.
Paul Elliott, senior land management specialist, coordinated the ground crews in lighting and controlling the fire. Elliott says the joint training was beneficial for District and Forestry staff because it demonstrated the effectiveness of the Fire Hawk helicopter and served as a timely refresher regarding fire line safety with the use of helicopters.