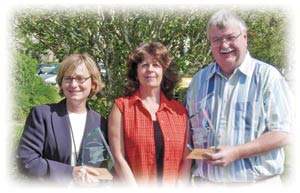 Two District communications projects recently received international recognition. The Communicator Awards 2005 print/media competition awarded its Award of Distinction to "Bringing Back the Bay" and "WaterMatters."
Entries came from throughout the United States and several foreign countries. Communicator Awards entrants are submitted by advertising and public relations agencies, corporate communications departments, educational institutions, government entities, designers, writers, video production professionals, broadcast and cable operations, and other businesses and individuals throughout the country.
"Bringing Back the Bay" Video
This 30-minute video looks at the recovery of Tampa Bay and some of the challenges ahead. The improved status of Tampa Bay is the result of a cooperative effort among many agencies in the region. The video also recently received second place in the Tampa Bay Regional Planning Council's 13th Annual Future of the Region Awards.
The video was distributed to government and public access cable television stations in the region. Individual copies were also distributed to schools, libraries and other public gathering places. The video is also available upon request by calling the District's Communications Department at 1-800-423-1476, ext. 4757.
The District's Surface Water Improvement and Management (SWIM) section and the District's Alafia River, Hillsborough River, Manasota, Northwest Hillsborough and Pinellas-Anclote River basin boards funded the project.
John Walkinshaw, senior public education coordinator, was the project manager; Pati Twardosky, senior graphic illustrator, designed the cover art. SWIM Program Manager Lizanne Garcia and her staff provided technical support.
"WaterMatters" Newsletter
This publication, which you are currently reading, is a full-color newsletter that is distributed to District employees, elected officials and interested persons throughout the District. The publication's format gives us the opportunity to feature the people and projects that make up the Southwest Florida Water Management District.
Rebecca Courier, communications coordinator, is the editor; Pati Twardosky, senior graphic illustrator, is the graphic artist.