Moving southwest you will find Crystal River, which is in Citrus County and runs from the town of Crystal River west for seven miles towards the Gulf of Mexico. Crystal River's headwaters is an area known as Kings Bay, which has more than 70 springs. Crystal River/Kings Bay is the second largest springs group in Florida, the first being Wakulla Springs in northern Florida near Tallahassee.
Many of the river's springs are 20 to 30 feet deep, and the water discharging from them is very clear. Coming from within Florida's limestone aquifer, the spring water is 72 degrees year-round, offering a cool break during the hot summers and a natural, warm bath during the winter months. Scuba diving and snorkeling are popular pastimes in the area with visitors likely to spot a manatee.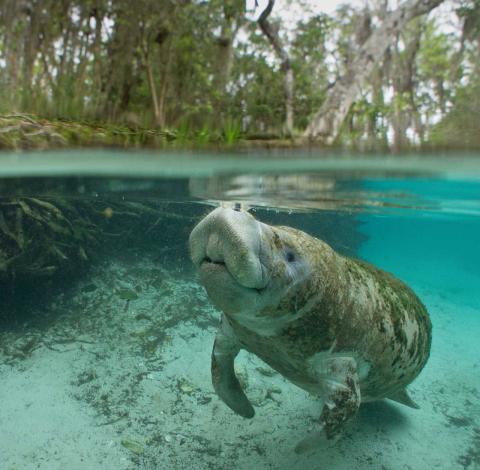 Crystal River is home of the Crystal River National Wildlife Refuge and Three Sisters Springs. This refuge is the only federal refuge created specifically for the protection of the threatened Florida manatee, a subspecies of the West Indian manatee. The refuge is important because large numbers of Florida manatees make their winter homes in Crystal River/Kings Bay, enjoying the springs because of the water's consistently warm temperatures. This warm water is crucial to their survival during the colder months when temperatures in the Gulf of Mexico can drop to around 50 degrees. There is a boardwalk at Three Sisters Springs where you can catch a glimpse of manatees without even getting wet.
It may be a seven-mile run to the Gulf by boat, but as the spoonbill flies it is less than a mile! Because of this intimate connection with the Gulf, Crystal River/Kings Bay has characteristics of both freshwater springs and an estuary.
Crystal River/Kings Bay was designated as an Outstanding Florida Water in 1983 due to its important ecological significance.