The 7.5 mile-long Weeki Wachee River is another spring-fed river on the Springs Coast. Its headwater is Weeki Wachee Springs, one of Florida's legendary roadside attractions where tourists, including Elvis Presley, have been coming to see the famous live mermaids in the underwater theater since the 1940s. The headsprings and surrounding land are now owned by the Southwest Florida Water Management District and managed by the Florida Park Service as Weeki Wachee Springs State Park.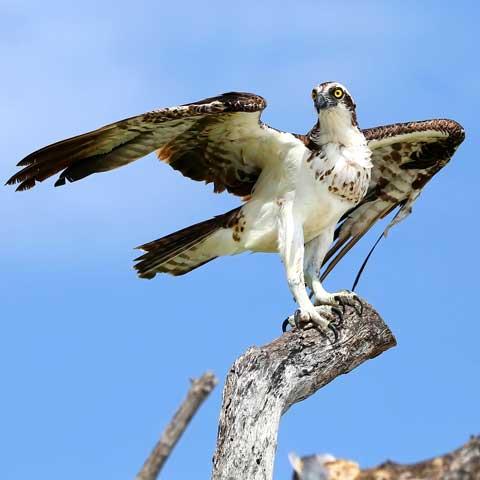 According to underwater explorers, known as cave divers, the Weeki Wachee Springs complex is home to the deepest known freshwater cave system in the country. This springs complex contributes more than 112 million gallons of water per day to the flow of the Weeki Wachee River. Several smaller springs also add to the river's flow.
Many habitats surround the Weeki Wachee River, including sandhill forests, hardwood swamps and a large salt marsh. It is home to a variety of wildlife, such as the osprey, also known as the sea eagle. In some areas of the downstream portion of the river, the river has been dredged and channelized for riverfront homes and businesses. Because these canals are closer to the coast, they are under the tidal influence of the Gulf of Mexico, where the river empties.