Basin Board Members Tour River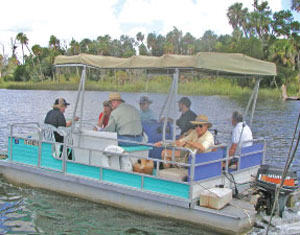 District staff and Governing Board and Basin Board members tour the Withlacoochee River.
Members of the District's Withlacoochee River Basin Board recently toured the lower Withlacoochee River from Inglis to the mouth of the river.
The lower Withlacoochee River has undergone significant alteration with the construction of the Inglis Dam and the Western Terminus of the Cross Florida Barge Canal. The basin board provided funds to investigate the possibility of restoring this area in fiscal year 2003. The tour group, filling two pontoon boats, received staff briefings along the way. The educational tour provided basin board members a firsthand look at the dam, lock, spillway, barge canal and estuary, and will enhance the board's knowledge of the area when options for future restoration are discussed.