Hard Work is Appreciated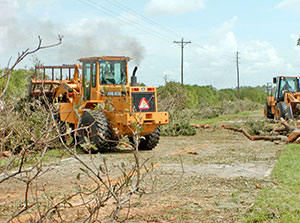 District workers cleared miles of roads and streets in Polk County after Hurricane Charley.
The hard work and dedication District staff exhibited after Hurricane Charley left an impression on the citizens of Fort Meade.
District Operations staff spent several days working in Fort Meade clearing the streets of debris. The District crew cleared between 25 and 30 miles of roads and streets in the area.
During a recent city council meeting, Mike Martin, Field Operations supervisor from Bartow, accepted a letter of appreciation from Bob Elliot, Fort Meade mayor.