Volunteer Contribution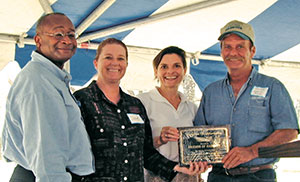 Terry Yoder of the Citizen Support Organization, far right, receives an award from District Governing Board Chair Watson L. Haynes II, Governing Board member Janet D. Kovach, and Governing Board Vice Chair Heidi B. McCree.
We always feed our volunteers well. If anyone wants to sign up, call me!"
That's one of the selling points Karen Michalak makes when she's trying to recruit people to join the Pasco County Sheriff's Mounted Posse, one of the volunteer groups recently recognized by the Southwest Florida Water Management District.
Approximately 300 volunteers are involved with the District's Land Resources Volunteer Program. These volunteers play an important role in maintaining the District's many recreational trails and campgrounds. The District recently celebrated their contribution with a Volunteer Appreciation Day.
"District volunteers have put in hours and hours of time helping develop, construct and maintain District trails, picnic areas and campgrounds," said Colleen Kruk, Land Use and Protection manager. "Without them, some of the District's public lands would not be as accessible and enjoyable."
The District's volunteer program, which began in December 2003, tracks volunteers' hourly contributions and honors a volunteer or organization when that person or organization reaches an established milestone. The program's established milestones are 50, 100, 200, 300, 500 and 1,000 service hours.
The Pasco County Sheriff's Mounted Posse was one of five organizations receiving special recognition for volunteering more than 500 hours maintaining District land. The Posse began working with the District on the Serenova Tract last October. Within a year they cleared the picnic area and built picnic shelters. The group also cleared the trails and put up signage made by Hudson Middle School students. The Posse now maintains the property by holding workdays.
"We came out to clean up the trails about a month or so ago and we only had one thing we had to pick up off the trail, as far as trash," says Michalak.
She believes the cleanliness is due to community interest in the property.
"The people who are using the facility must really like it because they are taking good care of it," says Michalak.
Four other volunteer groups also received special recognition for contributing more than 500 hours of service:
•Citizen Support Organization for the Lake Panasoffkee Project (also known as the Friends of Hanover)
•South Creek Foxhounds Equestrian Club
•Florida Trail Association
•Hampton River Riders
The Volunteer Appreciation Day, which was held at the Green Swamp West field office, featured an awards presentation where volunteers were individually recognized and received plaques, shirts and caps. The celebration also featured exhibits, a picnic lunch, live music, hayrides and a nature hike.