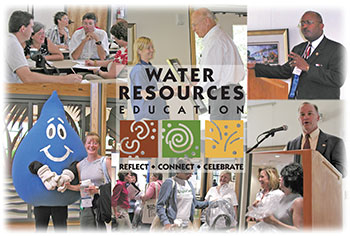 The Brooker Creek Preserve Environmental Education Center was the ideal place to honor the very best in District-sponsored community and youth water resources education projects and to equip the awardees to go out and do more.
A total of 52 projects from throughout the 16 counties that make up the District were recognized at the Reflect, Connect, Celebrate Conference.
"I'm amazed at the diversity of the projects represented here," said Executive Director David Moore, who welcomed attendees.
To select the awardees, District staff reviewed water resources education projects supported by District grants over the last two years. These projects included those completed by teachers, community members, local governments and non-profit groups.
"When selecting the projects, District staff considered innovation, cost-efficiency and effectiveness of each project," said Communications Director Linda McBride, who oversees the District's education efforts.
The conference focus on education grant projects enables the District to recognize some of the individuals who play an important role in teaching students and community members the importance of water resources.
"We brag about the work you do and show that you can take $500 and make it grow into major projects," said Watson Haynes II, Governing Board Chair, in his keynote address.
During his address, Haynes not only praised past performance but also inspired volunteers to do more.
"You can make a difference in the lives of the citizens in this District we represent," said Haynes.
Governing Board member Ronnie Duncan echoed that thought. "Across this District, people today are saying 'you never know what impact you're going to have' and that's why you all are so important."
Besides receiving recognition for their hard work, attendees toured the Brooker Creek Preserve Environmental Education Center and took part in educational sessions designed to enhance future efforts in water resources education.
"I'm old enough to remember a period of time when there wasn't much effort put into the stewardship of natural resources, especially water resources education, and just looking around this room we can clearly see we've come a long way in addressing this critical topic," said Moore.