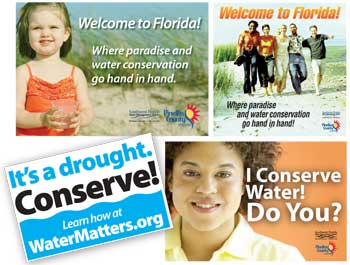 The District is taking the state's annual water conservation efforts in April to another level as the need to conserve is more important than ever.
"April is part of Florida's dry season and the time when the District makes an extra effort to remind residents about the need to conserve," said Michael Molligan, communications director. "However, this year our water supplies are extremely low, so we have been stepping up our public awareness campaign because we need everyone to do their part."
The District is spreading the word about the drought and water conservation through a media campaign, an online home water use calculator and pledge, youth activities and public appearances.
Media Campaign
The District's public service ads began airing on area radio and television stations in March and will continue through April.
In addition to the radio and television ads, the District is also reaching out to area meteorologists, who are incorporating more information about the drought and water conservation into their daily forecasts. Included in the media campaign are drought updates on WTSP Channel 10 in their morning and afternoon forecasts.
The St. Petersburg/Clearwater International Airport recently agreed to display water conservation signage in its baggage claim area. The signs will continue to remind residents and visitors about the need to conserve water.
Drought yard signs are also available to District Board members and employees, as well as local governments within the District.
Online Audit and Pledge
The District is also unveiling a new online home water use calculator and water conservation pledge. The online calculator allows people to determine how much water they use, provides ideas on how they can reduce that amount, and features a pledge for residents to agree to do everything they can to reduce their use. Visit the District's web site at WaterMatters.org/Conservation to take your pledge today.
Youth Activities
The Youth Education Section of the District's Communications Department is launching a new web-based water conservation challenge for schools in April. Teachers and students will pledge to conserve water and develop a plan for a conservation activity. Some projects will be featured on the District's education web site. More information can be found at WaterMatters.org/ClassChallenge/.
In addition, District youth education staff was at the Green Fest in March at Plant Park in Tampa. Staff will also participate in the 40th anniversary celebration of Nature's Classroom on April 18–19 to coincide with Earth Day. The ninth annual Suncoast Earth Force Youth Summit will take place at Al Lopez Park in Tampa on April 23. District staff will demonstrate a groundwater model and watershed model to students.
Public Appearances
In addition, the District hopes to raise awareness about water conservation this spring by having its water conservation restroom trailer at a variety of outdoor events.
The restroom trailer, which features the "Reduce Your Use" campaign and Florida-friendly landscaping principles, will be at the Venice Shark's Tooth Festival on April 17–19, Islands Fest at Davis Island in Tampa on April 18 and the Green Thumb Festival at Walter Fuller Park in St. Petersburg on April 25–26.
The District is promoting water conservation through other public appearances and its Community Education Grant program. See below for a list of workshops and events.
Each year the District joins with the state Legislature, Tampa Bay Water and dozens of local governments in declaring April "Water Conservation Month."
For additional information about water restrictions, water conservation and the drought, please contact your local utility or visit the District's web site at WaterMatters.org/Conservation/.
Community Education Grant Water Conservation and Water Resources Events
Citrus County
In conjunction with Water Conservation Month, the Citrus County Department of Water Resources will feature water conservation through a series of education and outreach programs.
Highlands County
The Highlands Soil and Water Conservation District will talk to homeowners associations about water conservation and rain sensors.
Hillsborough County
The Sustany Foundation will sponsor ECO-lution '09, a weeklong series of events beginning April 23. The events will include demonstrations and information on and about the Hillsborough River watershed.
Pinellas County
Staff will represent the District at the 2009 Pinellas Living Green Expo, which is being held May 2–3 at the Harborview Center in Clearwater. The District is also an event co-sponsor.
Polk County
The Health Chic, Inc. is hosting a series of educational events that feature Florida-friendly landscaping information, rain barrels, low-flow devices and other water conservation-related activities. The City of Winter Haven will host a series of "Winter Haven Lifestyle Water Conservation Public Education" workshops, focusing on water conservation ideas for lawn and irrigation systems.
Sumter County
The Extension office will hold a series of "Watering Smart: Living Green in The Villages" workshops aimed at teaching new residents how to set and maintain their sprinkler systems so they do not waste water.