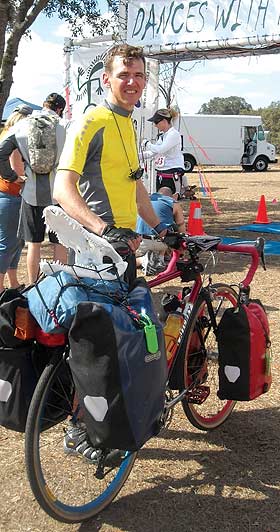 Tom Campbell, Green Swamp marathon winner, planned to bike to Sarasota County after the race.
A group of extreme runners known as "Dances With Dirt" (DWD) are considering a return to the Green Swamp Wilderness Preserve after holding a series of runs in the swamp in February.
"We enjoyed the Florida hospitality and the area's natural beauty," said Randy Step, event director. "We hope to make the extreme DWD run in the Green Swamp an annual winter break event, bringing together trail runners from Florida and all points north."
Each year DWD organizers plan several events that take runners through extreme terrain. The group's goal is to hold four events a year. This year, organizers chose the Green Swamp Wilderness Preserve to be the site of their winter run. The other events take place in Indiana, Michigan and Wisconsin.
Organizers began planning the Green Swamp run in September and spent weeks tromping through the preserve's 110,000 acres to map out several trails.
The Withlacoochee River Park served as the start and finish lines for all of the races. Runners had the opportunity to race through the Green Swamp Wilderness Preserve and into Colt Creek State Park in Polk County.
Chuck Lane, senior land use specialist, was the group's District contact. He says the event is a positive example of how public lands may be used.
"As a result of this event, hundreds of people had the opportunity to enjoy portions of the Green Swamp that are seldom seen," said Lane. "This type of event allows people to leave with an increased appreciation for Florida's natural environment."
DWD has already expressed an interest in returning next year.
More than 100 individuals and two dozen five-member relay teams participated in a variety of races at the Green Swamp, including a 50 Mile Ultra, 50K Ultra, 50 Mile Relay, and full and half marathons.
In all, 246 runners lined up and finished the race. Runners ranged in age from 12 to 78 and hailed from 19 states and one Canadian province.
DWD held its first event in 1995 in Hell, Michigan.
The group's name comes from a story about five Potawatomi Indians who loved to run and were nicknamed "Dances with Dirt" by their elders.