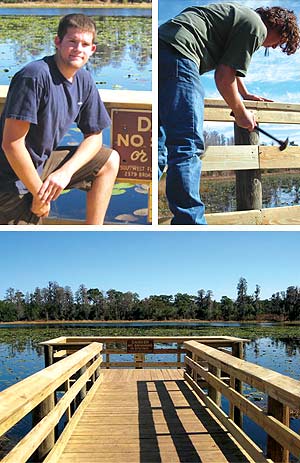 Eric Miller (top left) chose to build a wheelchair accessible dock at Serenova for his Eagle Scout project.
An Eagle Scout project has made it possible for disabled anglers to cast their lines at the District's Serenova Tract.
Eric Miller chose to build an accessible dock for his Eagle Scout project after he and his sister volunteered on the property during a disabled hunt last year.
"He wanted to do something for the disabled and he likes to fish, so he chose this project," said Will Miller, Eric's dad and District land use and protection manager.
Eric is a member of Troop 71. Over the course of 15 months, Miller spent more than 563 hours planning and working on the project. His fellow troop members and District staff who volunteered their time contributed more than 468 hours.
Miller's dad and several District volunteers helped put in the main piers before Eric's Scout troop helped with the rest of the construction. In addition to his father, Eric was assisted by Steve Dicks, mapping and GIS program director; Alex Mahon, survey coordinator; Jeff Miller, senior land acquisition specialist; and Dean Rusk, visual communications manager.
"I had a lot of fun and learned a lot, but at times I became quite overwhelmed," said Eric Miller. "With the support of my family and my troop, I was able to complete my project. I hope this sets an example for the other members of the troop not to give up when you don't think something is possible."
Troop 71 is based in Brooksville and is sponsored by the First United Methodist Church. To learn more about Scouting, visit Scouting.org.
To learn more about recreation opportunities on District lands, please visit the District's web site at WaterMatters.org/recreation/.