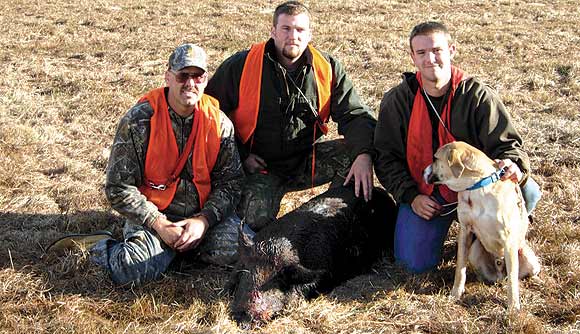 Hog hunters from Hernando County (left to right) Wade Jenkins, Jason Bibeau and Chris Bibeau.
District land managers say a series of hog hunts held on District lands this winter and spring helped reduce the wild hog population. Hundreds of hogs were removed from seven different tracts of land throughout the District.
The District opened the land for hunting because wild hogs cause extensive damage to the natural habitats. Wild hogs, which are not native to Florida, feed by rooting with their broad snouts and can leave an area looking like a plowed field. 
Hog damage in several preserves, particularly in DeSoto, Marion, Pasco, Polk and Sarasota counties, had reached unacceptable levels and was occurring more frequently and with increasing severity.
"We haven't had hog hunts on these District properties since 2000," said Paul Elliott, senior land management specialist.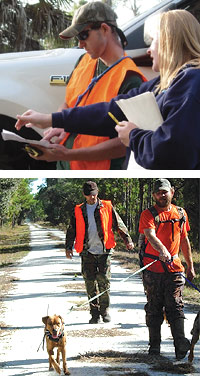 Top: Stephanie Green, senior land management specialist, shows a hunter a map of the Myakka River—Schewe Tract in Sarasota County.
Bottom: Dirk Segeren from Largo returns from the woods with his friend and their dogs.
The District planned 13 hunts, each of which included a day for the hunters to come in and scout the area, and allowed multiple days of hunting. The hunts were either still or dog hunts.
Most of the hunters, who came from throughout the state, learned about the hunt online. The information was posted on the District's web site and the Florida Fish and Wildlife Conservation Commission's web site. Other outdoor-related web sites also picked up the information. This was the first time the District sold permits online.
Theodore Obermeyer, who was with a group of hunters from Palm Beach County, was on the Southern Airboat web site and learned that the District had just opened the permits to the public.
"I got right on the District's site and reserved permits for myself and a couple of friends," said Obermeyer.
During dog hunts, each hunter with a permit is allowed to bring in two assistants and can use three dogs at one time. If a hunter has more than three dogs, the other dogs must remain caged.
Many of the dogs used in hog hunting are catahoula curs, a working dog commonly seen on farms and ranches across the nation. These dogs will often track silently and only begin to bay when they have cornered the prey. Catahoulas are believed to have descended from the dogs brought to this country by explorer Hernando de Soto in the sixteenth century when he also brought the wild hogs. The dogs that were left behind by the explorer's party were bred by the local people with their domestic dogs.
Dirk Segeren is an experienced hunter who lives in the Largo area. He purchased a permit for both hunts on the Myakka River–Schewe Tract in Sarasota County after searching for hunting opportunities online.
"We've seen the wild hogs along the highway for years and have wanted to hunt here," said Segeren.
Segeren is often hired by area tomato farmers to remove hogs from their lands. He uses three dogs when he hunts. All of his dogs are equipped with GPS monitors so he can track them. His main dog is also equipped with a Kevlar vest for protection.
While his second hunt at the Schewe Tract wasn't as successful as the first, he said he and his friend still enjoyed being able to hunt on the property.
"Some of the hunters who are used to hunting in Polk County had a hard time on tracts with a lot of palmettos," said Stephanie Green, senior land management specialist. "They are used to hunting in wide-open oak hammocks. The dry conditions are also a challenge for hunters because hogs generally hang out near water sources and some of the properties are very dry right now."
District land managers are reviewing how successful the hunts were at reducing the wild hog population and will determine if future hunts are needed. If the District plans to hold hog hunts next year, the information will once again be posted on the District's web site.