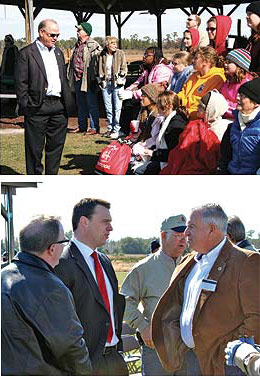 Top: David Moore, District executive director, talks to Pasco County students before the ceremony.
Bottom: Rep. Will Weatherford and Ronald Oakley, Governing Board member, discuss land preservation.
The District and more than 150 members of the community celebrated the grand opening of Conner Preserve in January.
The District purchased the 2,980-acre property in 2003 to preserve and restore this important natural habitat. Extensive restoration efforts have focused on areas that were converted to pasture when it was privately owned and managed as a ranch.
The event encouraged the community to get outside and learn about Conner Preserve as well as other District lands in Pasco County. Among the attendees were Connerton residents, recreational users, students, elected officials and local media.
Pasco County students from the Academy at the Farm and Countryside Montessori Elementary School participated in demonstrations about water quality, rocks and fossils, and the water cycle, as well as a nature hike.
The program included a welcome from David Moore, District executive director, followed by presentations by Eric Sutton, District land resources director, and Ronald E. Oakley, District Governing Board treasurer and chair ex officio of the Withlacoochee River Basin Board.
Oakley encouraged the community to visit more District lands and experience the true, natural Florida he remembered as a kid.
"Look around because this land belongs to each of you and someday it will be your responsibility to protect it," he told the students. "I hope to see you all getting outside on our District lands to hike, camp, bicycle, fish and explore."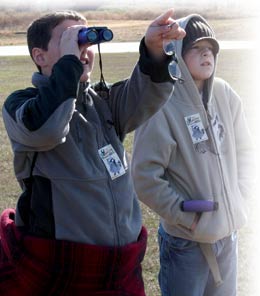 Among the other speakers were State Rep. Will Weatherford, Pasco County Commission Chairman Ted Schrader and Bay City Flyers President Charlie Poulton.
The preserve offers a stunning landscape of steep sandhill ridges, expansive marshes, dense cypress sloughs and lush pine flatwoods. It is a vital part of a wildlife habitat corridor envisioned by Pasco County and the District that will eventually connect the Starkey Wilderness Preserve to the Cypress Creek Preserve, making a continuous corridor of several thousands of acres in the region.
Recreational opportunities at Conner Preserve currently include bicycling, equestrian, hiking, picnicking and a model airplane flying field. Backcountry camping is expected to be available next year.