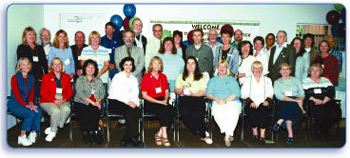 The District celebrated successful water conservation education grant projects and recognized the volunteers that make them happen at the spring conference, "Water Conservation: Reflect, Connect, Celebrate."
Approximately 140 people involved with school and community water conservation education grant projects participated in the conference, held at the Pinellas County Extension office in Largo. Besides recognizing successful projects and volunteers, District organizers also hope the conference will encourage more participation in future water conservation education projects.
Governing Board member Heidi McCree kicked off the conference by acknowledging the grant recipients' hard work. "Water conservation is a critical component for a sustainable future and I think the work you've been doing is just incredible and serves as a wonderful role model for our communities moving forward," said McCree.
The 61 awardees were selected from the District's 16-county region. To select the awardees, District staff reviewed grants applied for by teachers through the Splash! Youth Education mini-grant program and grants applied for by community members, local governments and non-profit groups through the community education grant program. District-sponsored programs that use volunteers to educate others about water conservation were also considered.
Although many of the District's grant projects focus on various aspects of all four of the District's areas of responsibility — water supply, water quality, natural systems and flood protection — only projects that focused on water conservation education were considered for the awards.
While water conservation is a year-round focus for the District, April has become the time of year when water conservation and education are featured. Governing Board member Watson Haynes highlighted the role education plays in water conservation.
"Last year alone more than 496,000 people were involved in enlightening others about water resources through the District grant and volunteer programs," said Haynes.
As the District celebrated successful water conservation education programs, the impact conservation has on our water resources and the need to increase conservation efforts was on everyone's minds. Executive Director David Moore illustrated that point. "If we can get just 10 percent more conservation across the board in the years to come, that's 130 million gallons per day (gpd) of water — that's over five seawater desalination plants," said Moore.
Besides honoring successful projects and volunteers, the conference also featured educational workshops and tours of the Florida Botanical Gardens located at the Pinellas County Extension office. The workshops focused on practical topics including: how to create effective and affordable signage, how to increase the educational value of a project, and how to motivate volunteers. The garden tour included viewing the Xeriscape garden and a stormwater pond that demonstrates successful function and maintenance.