Focusing on Florida's Future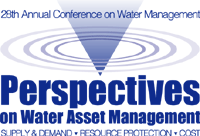 This September, water managers, state and local government officials, representatives from academia, the business community and other interested people will come to Tampa to attend Florida's 28th Annual Conference on Water Management.
The conference, which is being held September 3–5 at the Tampa Marriott Waterside Hotel, will provide a forum for attendees to share information on emerging technologies, discuss policy and social issues, and address economic challenges in managing Florida's water resources.
This year's theme, "Perspectives on Water Asset Management: Supply & Demand, Resource Protection, and Cost," will be explored through interactive discussions and presentations.
Conference attendees will also have the opportunity to choose one of five half-day tours to environmental and water supply project sites in the greater Tampa Bay area, including the DolphinQuest eco-tour of Tampa Bay, Weedon Island Preserve, Tampa Bay Water's regional reservoir construction site and desalinization plant, Surface Water Improvement and Management (SWIM) restoration sites, and stormwater facilities at the Florida Aquarium.
The state's five water management districts and the Florida Department of Environmental Protection are co-sponsors of the event.