New Leadership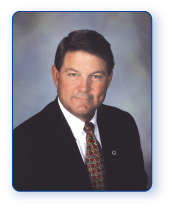 If there's one certainty, it is this: Thomas G. Dabney is prepared.
Soon after being named to the Governing Board in April 2000, Dabney granted a wide-ranging interview to The Sarasota Herald-Tribune. The interview covered such complex topics as saltwater intrusion and the hydrogeology of west-central Florida. He was prepared.
Dabney was prepared one year after joining the Board when he was named vice chair, devouring mountains of material that volunteer board members are expected to consume each month.
"When those packets of meeting information come, it's my responsibility to review and understand everything in them," Dabney said. "As vice chair, I had to be prepared to lead in the absence of the chair."
Two years later, he was prepared when tapped by the Governing Board to be its chair.
"It's a great honor to be elected chair of this board," Dabney said. "We have an incredibly talented, loyal and hard-working staff here at the District. They are adaptable, creative and committed to protecting the resources. That point really hits home when we go to statewide events and hear the Governor and the Department of Environmental Protection hold our District up as an example of how to do things right!"
Dabney believes in doing things the right way and in doing his homework. He combines energy, focus, and sturdy work habits as the elements for success. He describes himself as hard working, firm but fair, and fun loving.
"Work hard … then play hard," Dabney said with a smile.
Hard work has always been a part of Dabney's life. He was born in Coral Gables, graduated from Berry Academy in Rome, Georgia, then attended Tallahassee Community College from 1968–69. At the height of the Vietnam War, Dabney enlisted in the U.S. Army and served two terms in Vietnam as an intelligence analyst.
After leaving military service, he entered Florida State University where he earned a bachelor's degree in business administration. He is also a licensed real estate broker.
Dabney comes by his interest in water issues naturally. His former father-in-law, Latimer H. Turner, served on the Manasota Basin Board and the Governing Board in the 1970s. "You couldn't go to dinner at Lat's house without talking about water. His knowledge of the subject was universal," Dabney said. "Finding a sustainable source of water for Sarasota County was Lat's passion." Lat Turner died in 1998.
Dabney is a partner in Hi Hat Ranch, a family-run cattle and citrus operation in Sarasota County. He is also owner of Gulf Coast Property Services, Inc., a real estate development and property management business Dabney founded in 1985. The sustainable supply of water that was Lat Turner's passion is absolutely vital for agriculture as well as real estate development and other water users.
Before joining the District's Governing Board, Dabney was no stranger to government service. He was appointed to the Sarasota-Manatee Metropolitan Planning Organization in 1989 and served for three years. He also served on the Sarasota County Planning Commission from 1991 to 1995 and chaired that commission from 1994–95.
Once on the District Governing Board, he immersed himself in the sometime arcane details of water management to prepare himself to meet the challenges to come. Dabney sees three major issues he would like to address during his time as chair.
The number one issue is completing a management plan for the Southern Water Use Caution Area, which covers approximately half of the District. Groundwater withdrawals there have increased saltwater intrusion into the aquifer along the coast, and lowered lakes and river flows inland.
Dabney's second priority is to continue the development of the Comprehensive Watershed Management Initiative. This program looks at water management from a watershed perspective, pulling together land and water resource planning, all the various disciplines and affected stakeholders within each individual watershed for a coordinated management approach.
His third priority is to develop stronger relationships with local, state and federal representatives,
"To be effective, everyone needs to be aware of the issues we face and work together for a common purpose. I want to enhance and improve the relationships we have. We need to increase funding support, especially on the federal level," Dabney said.
On a personal level, Dabney values faith, family and community. He's a voracious reader, and enjoys golf, boating, personal fitness, and snow skiing. Tapping into the knowledge of master gardeners at the District, Dabney is also spending his personal time reshaping his yard into Florida-Friendly landscaping.
After he completes his service on the Governing Board, he plans to "slow down a bit." He has no desire for elected office, although he greatly respects those who choose to provide that service to their communities.
But there's much work to be done before Dabney is ready for life after the Governing Board. There are challenges to meet. It's a sure thing — he'll be prepared.