Passing the Torch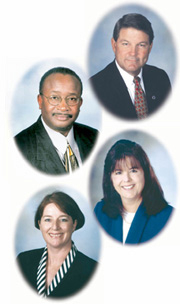 This spring the Governing Board "passed the torch" to a group of new leaders.
The April elections brought about a change in each of the four offices.
Thomas "Tom" G. Dabney was elected chair.
"It's an honor to be chosen chair by this Governing Board," Dabney said. "We face many water resources challenges in our District. Serving as chair, I look forward to working with this excellent Governing Board and District staff to address these issues, including expanding and further developing relationships with elected officials and regulated communities."
Dabney was appointed to the Governing Board in April 2000 and served as the Governing Board's vice chair for two terms.
Watson L. Haynes II moves from treasurer to vice chair. Haynes was appointed to the Governing Board in March 1999 and served two terms as the Governing Board's treasurer.
Margarita "Maggie" N. Dominguez was elected treasurer. Dominguez was appointed to the Governing Board in March 2001.
Janet D. Kovach was elected secretary. Kovach was appointed to the Governing Board in September 2000. She previously served as Governing Board secretary.
Ronnie Duncan congratulated all of the newly elected officers and said, "My hope is, as outgoing chair, that we can continue to stay the course we set." Duncan served two consecutive terms as chair. Board members are allowed to serve no more than two consecutive one-year terms in the same office.
Governing Board members are unpaid, citizen volunteers who are appointed by the Governor for a four-year term and confirmed by the Florida Senate. The 11-member Governing Board sets policy for the District, whose mission is to manage the water and related resources of west-central Florida to meet the needs of current and future water users while protecting the environment.