New Leadership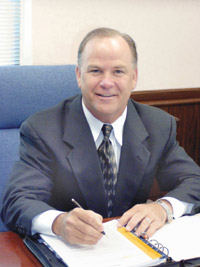 Look up "energy" in the dictionary and more than likely there'll be a picture of David Moore. Sightings of the District's new executive director have been reported in every District department and in multiple cities, often simultaneously. Moore is seemingly everywhere, sharing an endless enthusiasm and boundless energy that he uses to address every task, big and small.
"Life is too short and time too precious to waste," Moore said.
Moore's energy will be needed. Like most of the state, west-central Florida is experiencing growing pains. In addition to new demands on the resources, existing resource concerns need addressing. For instance, in the Southern Water Use Caution Area (SWUCA) that covers approximately half of the District, the financial cost of addressing saltwater intrusion and lowered lake levels and river flows was initially estimated at $1.4 billion.
In the Tampa Bay area, the District is overseeing the implementation of an agreement that is developing alternative water supplies while reducing pumping in a three-county wellfield system by 40 percent by 2007 to provide environmental restoration to stressed wetlands.
In the northern part of the District, some of Florida's most unique water resources, the springs, are struggling with poor water quality as the result the leaching of nutrients from septic tanks and fertilizers into the aquifer.
Moore's background makes him uniquely qualified to address these diverse issues. He holds a bachelor of science degree in geology from the College of Charleston, a master of science degree in geology from the University of South Florida, and a graduate certificate in public administration from the University of South Florida.
Moore, a South Carolina native, came to Florida to attend graduate school at the University of South Florida.
"USF had an excellent reputation for groundwater studies," said Moore.
While attending USF he also learned about the District, and was hired as a project hydrologist for the District in 1984. His experience with the District includes all levels of management. Prior to being named executive director, he served for more than 10 years as the District's deputy executive director for the Division of Resource Management and Development. That Division is responsible for, among many duties, the setting of minimum flows and levels, water resource monitoring, data collection, water quality investigations, water flow and hydrologic analyses, development of alternative water sources, stormwater management plans, habitat restoration and protection, regional flood protection projects, operation of water level control structures, land acquisition and management, and the Geographic Information System.
With such an extensive range of experience, Moore finds it difficult to select any particular project as his favorite.
"There are so many initiatives to choose from be it habitat restoration, land acquisition and management, water resource development, resource assessment, rulemaking, and budgeting. They all bring their own challenges and excitement," Moore said.
That diversity of experience and Moore's unique personal qualities were instrumental in his being selected by the Governing Board to be the staff's new leader.
"I truly appreciate the confidence the Governing Board members showed in selecting me. I'm going to make sure that their confidence in me is shown to be well placed."
One of Moore's immediate goals as executive director is to complete and implement the SWUCA Plan.
Other objectives include re-energizing and streamlining the Comprehensive Watershed Management (CWM) Initiative, preventing people from building on floodplains, and ensuring that sustainable water supplies continue to be developed in the Tampa Bay area.
When Moore is not busy taking care of business for the District, he enjoys spending time with his family, boating, golfing and enjoying Florida's outdoors. He is also on the Board of Directors for Leadership Tampa Bay, the Water Reuse Foundation, the Museum of Science and Industry (MOSI), and the Florida Aquarium.
Whether working or recreating, one thing is for sure: David Moore will not waste one drop of time.