Fresh Faces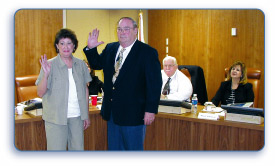 Two Governing Board members are getting used to their new roles at the District. Gov. Jeb Bush appointed Judy Whitehead and Jerry Rice to the Governing Board in March. Their terms end March 1, 2007.
Whitehead is from Brooksville and succeeds Monroe "Al" Coogler, whose term expired March 1, 2003. The Governing Board seat is an "at large" position representing Citrus, Sumter, Hernando and parts of Lake, Levy and Marion counties. Whitehead is a member of the Governing Board's Resource Management and Development Committee and Planning Committee. Whitehead is a self-employed real estate appraiser at Residential Appraisal Service in Brooksville.
Rice is from Dade City and succeeds John Renke III, who left the board in January after being elected to circuit court judge in Pasco County. The Governing Board seat represents Pasco County. Rice is a member of the Governing Board's Finance and Administration committee and Planning committee. Rice is co-owner of Century 21 Prime Property Resources, Inc., in Bushnell.