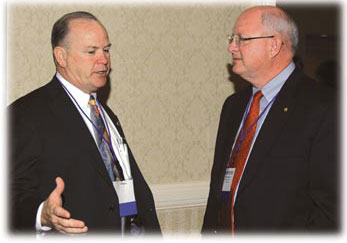 David Moore, District executive director, and Kirby Green III, St. Johns River Water Management District executive director, discussed regional collaboration and water supply issues during the summit.
More than 160 people representing local governments, utilities and various industries came together Friday, March 23, at the Hilton Ocala Hotel for the District's first northern Water Conservation Summit.
Held in partnership with the Suwannee River and St. Johns River water management districts, the summit served as an exchange of ideas on how local governments and utilities in the District's northern region can plan for future growth over the next 20 years and avoid some of the water supply issues experienced in the southern portion of the District. The northern region includes all of Citrus, Hernando and Sumter counties, and parts of Lake, Levy and Marion counties.
"The purpose of the summit was to gather the region's key decision-makers in one place to look at population projections and then encourage them to increase their water conservation efforts and look at alternative water supplies to reduce groundwater withdrawals," said David Moore, District executive director. "We hope this is the beginning of increased regional collaboration to protect the world-class resources in the northern counties."
Some of the topics covered during the summit included water-conserving rate structures, reclaimed water, alternative water supplies, Florida-friendly landscaping and resources available to local governments and utilities.
Staff from the Suwannee River and St. Johns River water management districts also shared some of the major challenges and solutions for solving water resources issues in other parts of the state.