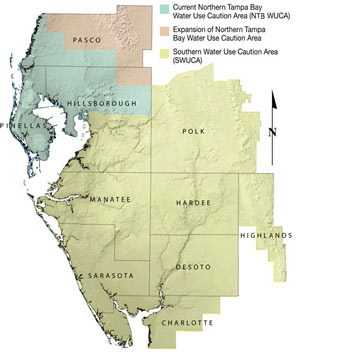 The Governing Board charged District staff in January with initiating a public process to receive input on four strategies aimed at protecting the natural resources in the northern portion of the District due to rapid growth and development.
The four strategies include expansion of the Southern Water Use Caution Area (SWUCA) per capita requirements Districtwide; expansion of the Northern Tampa Bay WUCA into northeastern Hillsborough and the remainder of Pasco counties; potential designation of a WUCA in portions of Marion and Sumter counties; and potential designation of a WUCA in all or part of Citrus and Hernando counties. A fifth strategy of enhancing public supply water conservation requirements on a Districtwide basis was added during the Board's March meeting.
The purpose of a WUCA is to impose special requirements for existing water users and permit applicants to prevent or remedy site-specific problems.
SWUCA Public Supply Per Capita Requirements Expansion
The Board voted in January to begin the rulemaking process to expand the SWUCA public supply per capita requirements Districtwide. Per capita (how many gallons of water are used on average per day per person) is used by the District and public supply utilities to determine the level of water use efficiency for each utility.
Expanding the SWUCA per capita requirements Districtwide will provide utilities with a standardized method for calculating populations served, such as permanent and seasonal residences, schools and businesses, as well as significant use deductions. Significant use deductions are designed to allow utilities to deduct all or part of large uses such as manufacturing plants, regional hospitals or universities when calculating per capita use.
The expansion would also include:
Requiring all utilities and public supply permittees with an average annual daily quantity above 100,000 gpd to submit annual per capita use data.
Establishing a maximum Districtwide per capita rate of 150 gallons of water per person per day.
Requiring public supply utilities to provide updated maps and information to better delineate their service areas.
As part of the rulemaking process, staff has received input from the District's Public Supply Advisory Committee and conducted a public workshop to solicit input from other public supply stakeholders. The rulemaking process will include additional public input and education.
Northern Tampa Bay WUCA Expansion
The Board voted in April to begin the rulemaking process to expand the Northern Tampa Bay WUCA into the portions of Pasco and northeastern Hillsborough counties not currently in the WUCA. The Board has determined that expanding the Northern Tampa Bay WUCA is necessary to address cumulative water withdrawals, which are causing or may cause adverse impacts to the water and related land resources or the public interest. This is an area experiencing rapid growth and the WUCA rules will enhance resource protection in the area.
Current Northern Tampa Bay WUCA requirements include:
Enhanced public supply water conservation measures, such as water-conserving rate structures.
Enhanced irrigation efficiency requirements for water use permit holders like golf courses and agriculture.
A lowered threshold of 100,000 gallons per day (gpd) for the metering and reporting of withdrawals.
Reclaimed water requirements.
As part of the initial public process, staff received input from the Withlacoochee River, Coastal Rivers and Hillsborough River basin boards and met with the District's advisory committees representing the green industry, agriculture, environmental, industry and public supply. In addition, a public workshop was held to solicit input from stakeholders in the area, including local governments, the business community, environmental organizations, major water users and others. A presentation also was given to the Pasco County Commission, who later sent the District a letter supporting the expansion.
The rulemaking process will include an in-depth public input and education process.
Enhanced Public Supply Water Conservation Requirements
The Board also voted in April to begin the rulemaking process to enhance Districtwide public supply water conservation requirements.
District staff has recommended coordinating these enhancements with the Conserve Florida Initiative, which was adopted by the Florida Legislature in 2004. Conserve Florida provides public supply utilities with the flexibility to create a goal-based water conservation plan that is tailored to its individual size and population needs. The final plan must meet or exceed the District's conservation rule requirements.
Conserve Florida features a web-based tool to aid utilities in developing goal-based water conservation programs, as well as a clearinghouse of information maintained by the University of Florida in Gainesville. The District continues to provide financial support to the Clearinghouse. Some of Conserve Florida's recommended best management practices include water-conserving rate structures, reuse projects, nonpotable irrigation source rebates, water-efficient landscape evaluations, high-efficiency clothes washer rebates, low-flow toilet rebates, urinal rebates and retrofits, and nonresidential water use evaluations.
District staff is also developing a "scorecard" to outline and track each public supplier's water conservation efforts. Once the scorecard is complete, it will be provided to Governing Board members each month to better aid them in their decision-making.
The rulemaking process will include an in-depth public input and education process. District staff will also work closely with the Public Supply Advisory Committee to develop the rules.
Potential Lake/Marion/Sumter and Citrus/Hernando WUCA Designations
The Board directed District staff in April to conduct additional stakeholder meetings and workshops on whether to declare all or portions of Lake, Marion, Sumter, Citrus and Hernando counties a WUCA before returning to the Board with any recommendations.