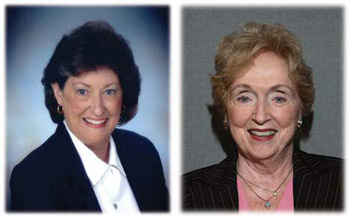 Left: Judy Whitehead, Right: Patricia Glass.
Governor Charlie Crist made two appointments to the District's Governing Board in April. Judy Whitehead and Pat Glass were sworn in at the April Governing Board meeting.
Judy Whitehead was reappointed. She is the current Governing Board vice chair and chair ex officio of the District's Coastal Rivers Basin Board. She was first appointed to the Governing Board in March 2003. Her term ends March 1, 2011.
Whitehead was pleased to be reappointed and is looking forward to continuing Chair Jerry Rice's direction for a specific strategic plan for the District, as well as continuing to focus on alternative water sources.
"I am also very interested in developing partnerships to plan and meet the future water needs of the northern part of our District, to clean up and maintain our wonderful springs, and to assist counties and cities in developing ordinances that require Florida-friendly landscaping for all new developments Districtwide," said Whitehead.
The Governor also appointed Pat Glass of Palmetto. A long-time Manatee County commissioner and chair of the Peace River/Manasota Regional Water Supply Authority, Glass replaces Edward Chance who passed away in June 2006.
"Ed was a great champion of the water resources and a true friend. We worked together in many capacities to ensure a sustainable water supply and a protected environment. I look forward to continuing this work on the Governing Board," said Glass.
Her term ends March 1, 2009. Ms. Glass will also assume responsibility as co-chair ex officio of the District's Manasota Basin Board.