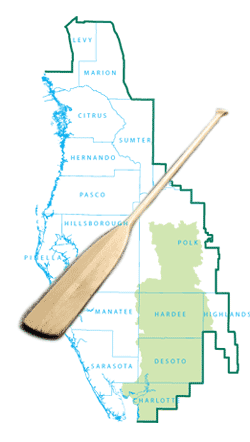 This April the District will span the Peace River watershed in an effort to create watershed awareness, showcase the commitment to protecting the watershed and foster proper stewardship of the watershed. A traveling canoe paddle will be used to tie all of the events together.
A week of "Spanning the Watershed" events will kickoff April 14 in Bartow at the Polk County Water, Wings & Wild Things event. This will be the first time visitors will see the canoe paddle as it begins its journey through the watershed, stopping at three other celebrations along the way.
The canoe paddle wraps up its journey on April 21 in Charlotte County. Look for more information about this event in the coming weeks.
Visitors to the events on April 14 and 21 will have the opportunity to visit environmental exhibits and engage in fun, interactive activities for children and adults.
In addition to the two public celebrations for all ages, the canoe paddle will make an appearance at two other educational appointments during the week. One is being held at Payne's Creek Preserve in Hardee County and one is being held at DeSoto Park and Morgan Park in DeSoto County. Both visits are being coordinated with area middle and high schools.