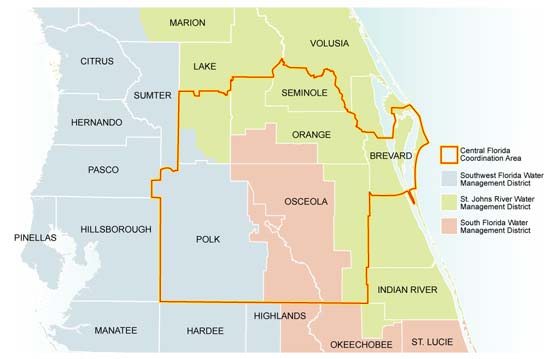 Three water management districts — the Southwest Florida, South Florida and St. Johns River — are working together to meet the growing water supply needs of a five-county region in central Florida while also protecting the water and related natural resources.
The water management districts approved an action plan for the Central Florida Coordination Area (CFCA), which extends into the three water management districts and includes Orange, Osceola, Seminole and Polk counties, southern Lake County, and the city of Cocoa service area.
The CFCA has limited traditional groundwater supplies that will not be adequate to meet all future demands, necessitating the need to develop alternative water supplies.
The action plan will identify the area's future water needs and available ground water and ensure equitable distribution of the remaining ground water and the development of alternative water supplies.
The plan's short-term objectives include regulatory consistency among the water management districts, equitable distribution of groundwater supplies and identification of alternative water supply projects and potential participants. These objectives are expected to be completed within 18 months.
Long-term objectives include better and more consistent planning coordination among the various agencies; consistent and improved data, models and tools; equitable distribution of any additional ground water identified through the improved models and tools; and the implementation of alternative water supplies.
The plan limits new groundwater allocations generally to those needed to meet the water supply needs through 2013. Utilities that agree to build alternative water supply projects by 2013 may receive 20-year permits for their groundwater supplies.