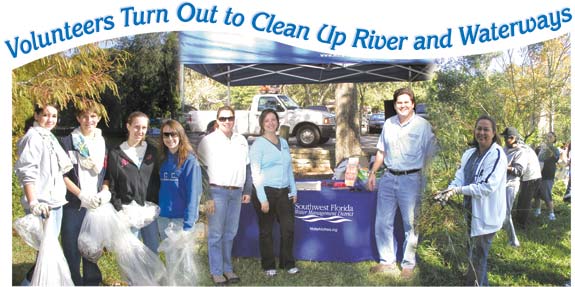 From left: Teens pitch in to clean up the Hillsborough River; center: District staff were ready to answer questions during the post cleanup picnic; right: Maritza Rovira-Forino, Governing Board member and chair ex officio of the Northwest Hillsborough Basin Board, joined in with volunteers.
This November more than 1,000 volunteers descended upon the banks of the Hillsborough River and other Tampa waterways as part of the 19th Annual Mayor's Hillsborough River & Waterways Cleanup.
Maritza Rovira-Forino, Governing Board member and chair ex officio of the Northwest Hillsborough Basin Board, was among the volunteers picking up litter and removing nonnative invasive plants that choke out native species. The cleanup took place at 22 shoreline locations.
While volunteers of all ages participate, students generally make up the majority of participants in what has become one of the largest annual volunteer events in Tampa.
"What a great event, and to see our youth volunteering their time on a weekend to such a worthwhile cause warms the heart," said Rovira-Forino. "The District is thrilled to partner with so many wonderful organizations and people to protect our water resources."
After hauling away more than 8.18 tons of debris and litter, the volunteers enjoyed the Rollin' on the River picnic at Lowry Park. During the picnic, volunteers listened to live music. They also were able to participate in environmental educational activities, including visiting the District's information booth where teenage volunteers picked up Florida-friendly temporary tattoos and volunteers of all ages found other informational material to take home.
The Hillsborough River is a central part of Tampa's identity, from providing an alternative potable water source and wildlife habitat to enhancing recreational opportunities and serving as the backdrop for Tampa's downtown.
The annual cleanup is part of the Mayor's Beautification Program. More than 200 tons of garbage have been removed from the river since the first Hillsborough River & Waterways Cleanup. Items that have been cleaned out of the river include shopping carts, mattresses, clothes, car parts, toilets, sinks, tires, safes and, of course, litter.
In addition to having a booth at the event, the District also supports the event financially as a sponsor of the annual cleanup.