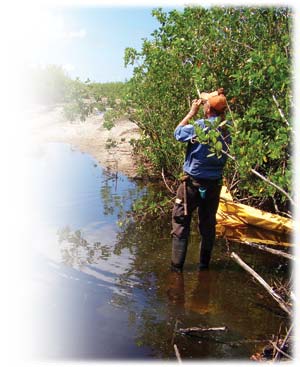 A site in Charlotte County named after Florida's best-known reptile is undergoing a transformation.
The District's Surface Water Improvement and Management (SWIM) program, in cooperation with the Florida Department of Environmental Protection (FDEP), is presently undertaking a multiphase ecosystem and hydrologic restoration project in the Alligator Creek Addition of the Charlotte Harbor Preserve State Park. The 1,600-acre Alligator Creek Addition is owned by the FDEP and is located just south of Punta Gorda between Charlotte Harbor and Burnt Store Road.
Charlotte Harbor is a SWIM program priority water body and is also considered an "estuary of national significance" with the establishment of the Charlotte Harbor National Estuary Program (CHNEP). The harbor is viewed as one of the most productive estuarine systems in southwest Florida.
"Within the last fifty years, the area has undergone significant hydrological and ecological changes due to human activities," said Paul Miselis, District project manager.
Miles of mosquito ditching have drained hundreds of acres of freshwater, transitional and saltwater wetland areas, which are critical to early life stages of many economically important fishes in Charlotte Harbor.
Altered wetland hydroperiods (the frequency, duration and depth of water) have allowed exotic species, especially Brazilian pepper, to colonize the impacted areas. The ditching has also introduced higher salinity surface waters and associated estuarine plants into areas that used to have more freshwater ecosystem characteristics.
Further, intertidal areas, such as mangrove swamps, salt marshes and other transitional areas, have experienced significant impacts due to the changes in natural hydroperiods.
"Coastal areas throughout Charlotte Harbor and the District have seen similar changes," said Miselis.
The Alligator Creek Wetlands Restoration Project began in 1999 and is being completed in phases as funding becomes available.
The current phase, Phase II, consists of five separate project areas. The goal of Phase II is to restore the natural hydroperiods and native habitats to approximately 620 acres of freshwater and saltwater wetlands and transitional areas.
Contractors are clearing away nuisance invasive plants in four of the project areas. They are also backfilling mosquito ditches to restore the original hydrology to approximately 270 acres.
In early 2007, the U.S. Army Corps of Engineers is expected to begin construction on the fifth project area, which consists of backfilling approximately 9.1 miles of mosquito ditching. The goal is to restore the natural hydrology and salinity gradients of approximately 350 acres of the total 620 acres of coastal ecosystems.
Phase II is expected to be completed by September 2007 and is expected to cost $1.9 million for design and construction. Funding for this project comes from the District's Peace River basin, the state SWIM program, a state appropriation, the FDEP, the U.S. Fish and Wildlife Service and the National Oceanic and Atmospheric Administration.
The design, permitting and construction of Phase III are expected to begin in late 2007.
As part of a separately funded project, the District has also partnered with Mote Marine Laboratory to help determine the effectiveness of the Alligator Creek Wetlands Restoration Project on improving habitats for mangrove creek fishes. This study will lead to guidance on the best way to proceed with future conservation and management measures in Charlotte Harbor and around the state.