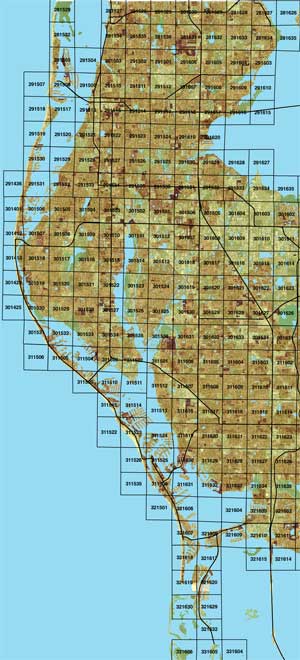 This grid map is an example of what Reality Check participants will use during the workshop.
The Tampa Bay region is about to get "real," but we're not talking about a new reality television series being taped in the area.
Reality Check Tampa Bay is a one-day exercise designed to analyze and develop alternative growth scenarios through 2050 for our rapidly growing region.
The Tampa Bay region includes Hernando, Hillsborough, Manatee, Pasco, Pinellas, Polk and Sarasota counties.
The workshop will be held May 18, 2007, at the Tampa Convention Center. Approximately 300 diverse stakeholders, including political, business, environmental, real estate and civic leaders, will be invited to attend.
The Tampa Bay region will be the fifth area nationwide to stage the interactive Urban Land Institute (ULI) program. By the year 2015, approximately 1.2 million new residents are expected to make the Tampa Bay region their home. The area will have an estimated population of 7 million residents by 2050. Reality Check will explore questions like: "Where will people live?" "Where will they work?" "How will the region manage the new growth while retaining the quality of life that attracted so many new residents?"
"The District's goal is to work with local governments and a wide variety of stakeholders to use sound water management practices when planning for the future," said Heidi McCree, Governing Board member and Reality Check executive committee member. "Participating in this exercise allows District representatives to share our perspective."
Representatives from all walks of life will be invited to participate. Participants will receive a packet of information in advance to study. Upon arrival, each person will be assigned to a table of ten. Each group will have a map of the region without any jurisdictional boundaries. The group will have about three hours to use the map to determine their preferred growth patterns. This exercise may also include having the groups indicate where they think new or enhanced transportation corridors need to be.
The information gathered from each small group will then be reported back to the full group the same afternoon. Results will also be analyzed as scenarios and put into a report for local governments, their planners and others to use.
"The District's participants are looking forward to working with representatives from other area governments and the private sector on this innovative project," said Richard Owen, District planning director. "We want to make sure that water and related natural resources are an important consideration in this visioning process."
The exercise is being co-sponsored by the ULI Tampa Bay chapter, Tampa Bay Partnership, Southwest Florida Water Management District, Tampa Bay Regional Planning Council and the Tampa Bay Estuary Program.
For more information, contact Elisa N. DeGregorio-Berlinicke, marketing manager, Tampa Bay Partnership, at (813) 872-2810, or email edegregorio@tampabay.org.