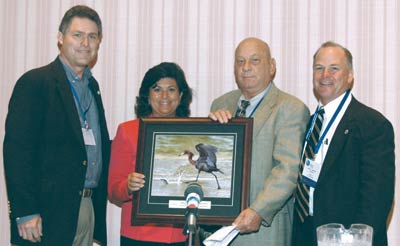 At the water management conference Eric Draper, policy director for Audubon of Florida; Sen. Paula Dockery (R-Lakeland); Jerry G. Hill, Authority chair and DeSoto County Commissioner; and David L. Moore, District executive director, together.
During the Annual Conference on Water Management in September, Audubon of Florida presented the Peace River/Manasota Regional Water Supply Authority (Authority) with a special award for using alternative water supply strategies for balancing environment and water supply needs. This is the first time Audubon has recognized an alternative water supply project.
The Authority's project involves constructing a 6-billion-gallon off-stream surface water reservoir to capture fresh water during the rainy season and make it available during dry periods. The reservoir, along with existing aquifer storage and recovery projects, and a proposed integrated loop water supply source system, will result in less competition for water needed for fish and wildlife.
In recognizing this project, Audubon hopes to promote the use of alternative water supply projects.
"This project will take pressure off coastal areas' ground water and estuaries and help the environment," said Eric Draper, policy director for Audubon of Florida.
Draper presented the award to Jerry G. Hill, Authority chair and DeSoto County commissioner. He commended the Authority for working with the District to secure $48 million in funding through the District's alternative water supply and resource development fund, and special state funds made available through Senate Bill 444. Audubon also supported the bill, which provides incentives to water supply utilities and local governments who work together to undertake costly projects that are more protective of the environment.
"As the population continues to grow in Florida, finding alternative water supply sources is crucial," said David Rathke, District Community and Legislative Affairs director. "The Legislature recognized the need to expand water supply sources and passed important legislation with Senate Bill 444. The funding will give entities the financial help they need to complete large projects such as this one."
The Authority is a regional partnership among Charlotte, DeSoto, Manatee and Sarasota counties.