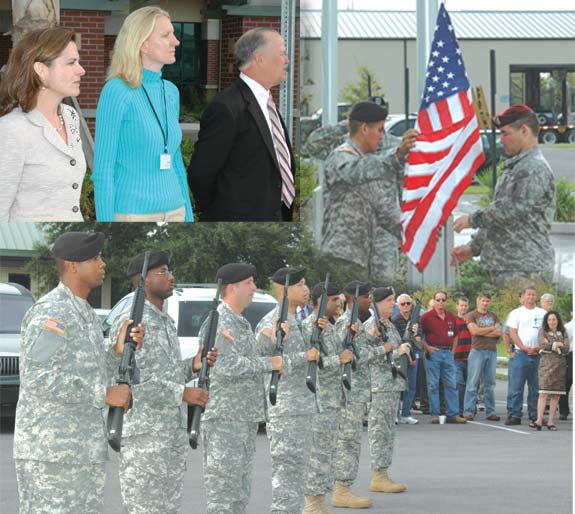 Heidi McCree, Governing Board member; Christine Wolden, environmental scientist; and David L. Moore, District executive director, watch as Catherine's husband, Eric, and members of the Florida National Guard raise the flag at the Tampa Service Office.
District employees remember our soldiers serving overseas. That thoughtfulness was recently recognized with a moving flag ceremony at the District's Tampa Service Office.
Sgt. Eric Wolden, a member of the 53rd Infantry Brigade, was stationed at Camp Phoenix in Kabul, Afghanistan, during Operation Enduring Freedom. While there, he flew the flag on behalf of the District for the support it provided to the troops and for the moral support his wife, Catherine, received from District staff. The Woldens attended the special flag-raising ceremony conducted by the Florida National Guard in October at the District's Tampa Service Office. The flag, along with a certificate from Brigadier General John Perryman, is proudly on display at the Tampa office.
"I feel very fortunate to work with so many caring and compassionate people here at the District," said Catherine Wolden, a District environmental scientist. "The emotional and moral support I received during my husband's deployment was irreplaceable."
Throughout the year, the District's employee committee organizes the sending of care packages to men and women serving abroad.
"For Eric, reminders of home, such as care packages provided by the employee committee, were vitally important," said Wolden. "It was very comforting for him to know that he was in people's thoughts."