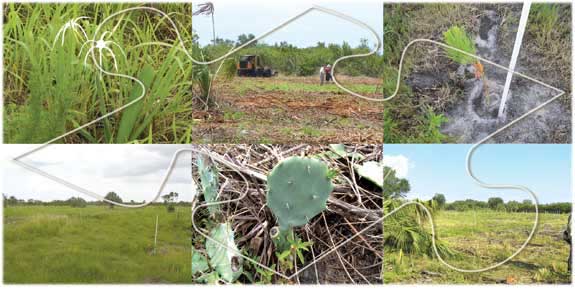 Terra Ceia Preserve State Park will become habitat for many threatened animals, thanks to its recently completed restoration efforts.
The 217-acre restoration effort, located in the southeastern reaches of Tampa Bay in Manatee County, is the third phase of a larger 2,308-acre restoration project.
"We don't often have the chance to work on projects of this size, especially in the Tampa Bay area," said Stephanie Powers, District environmental scientist. "The numerous habitat types located on the property make this project really interesting, and I am anxious to monitor its development over the next several years."
The restoration included removal of exotic vegetation and planting of native species. The exotic vegetation, primarily the Brazilian pepper tree, is notorious for growing quickly, out-competing other species.
The Brazilian pepper trees were removed with a Hydroaxe, which is a machine that simultaneously removes plants and turns them into mulch.
After the exotic plants were removed, 4,500 south Florida slash pines and 9,200 saw palmettos were planted to create a pine flatwood. Understory shrubs, including beautyberry, coral bean, small live oak and cedar trees, were also installed to supplement existing hardwood hammock areas within the flatwood.
While pine flatwoods are the most extensive terrestrial system in Florida, the majority of coastal flatwood systems in the Tampa Bay area have been lost to development. Pine flatwoods are unique systems composed of plants and animals specifically adapted to sandy, acidic soil conditions.
"The restoration at Terra Ceia will provide habitat for threatened and endangered birds like kestrels, woodpeckers and eagles that would not have previously utilized this area," said Powers.
In addition to providing habitat for birds, Terra Ceia will provide nesting and den sites, food and cover to a variety of animals including foxes, squirrels, bobcats, rabbits, rattlesnakes and a variety of toads and frogs. It will also provide habitat for the threatened gopher tortoise and the endangered eastern indigo snake.
The Terra Ceia restoration project is a cooperative effort between the District and the Florida Department of Environmental Protection/Division of Recreation and Parks. In addition to District funding, monies were allocated from the Water Management Lands Trust Fund (Save Our Rivers) and a grant from the National Fish and Wildlife Foundation.