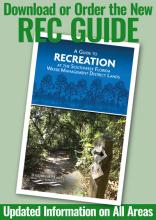 Join Michele Sager, lead communications coordinator, as she talks with Land Manager Felicia Nudo about recreational opportunities on District properties. They'll talk about how you can camp for free, hike natural trails, bike some amazing paths and much more. Also learn about free resources you can download or order. About the Water Matters Podcast: We answer your most popular questions about the work done by the Southwest Florida Water Management District and services offered including new projects, springs protection, water conservation efforts and more. Learn about the many ways we serve the community and protect your resources.
Recreation sites search results for "Pasco "
Please Note: Cooperatively managed properties are owned by the District but the recreational opportunities are managed by partner agencies. For specific details on cooperatively managed properties, contact the managing agency as listed.